20+ Surprising Ways to Instantly Upgrade Your Work Lunch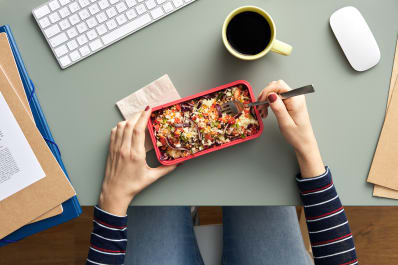 (Image credit: Martí Sans/Stocksy)
Unlike dinner, making my work lunch isn't a task that's always prioritized. The result? I cobble something together at the last minute, and while it's passable when noon rolls around it leaves a whole lot to be desired. I'm on a mission to change that, and I'd like to think I'm off to a good start.
The most important thing I've learned is that perking up your work lunch doesn't have to take a whole lot of time, effort, or extra money. With lunch, as in life, it's the smallest changes that make the biggest impact.
1. Use a better lunch container.
If you're packing lunch, it's time to arm yourself with some decent containers, which can be the key to a well-preserved meal. Stick with large, light containers for salads (the bigger, the better!), meal prep containers with snap lids, or a bento-style lunch box if you're packing a medley of items.
2. Ditch the plastic utensils.
You know you can do better than those flimsy forks. Using real flatware makes lunch feel like a real meal and a little more grown-up.
3. Use a real plate or bowl.
The same goes for real plates and bowls. It's such a small thing that makes a big difference, and has a way of increasing the enjoyment of lunch — especially when eating at your desk.
4. Pack a cloth napkin.
No reason to reserve your cloth napkins for dinner or special occasions! They're a little luxury that have a way of making even the simplest of work lunches feel kinda fancy.
Read more: 6 Reasons You Need Cloth Napkins
5. Step away from your desk.
If you can, get away from your desk when it comes time to eat. Whether it's at the kitchen table or a bench outside, the change of location offers a nice reprieve and let's you focus on what you're eating.
6. Add a pinch of fancy salt.
Whether you packed your own lunch or you picked up something from your favorite neighborhood spot, a sprinkle of flaky sea salt will always make lunch better — no matter what you're eating. I stash a tiny container in my desk so I always have it on hand.
7. Never underestimate a drizzle of good olive oil.
Good olive oil, along with other flavored oil, is a totally luxury. Keep a small bottle stashed in your desk to drizzle on salads, grain bowls, soup, or any type of leftovers.
8. Sprinkle on a fun seasoning.
Not only are seasonings like everything bagel spice, dukkah, and za'atar packed with flavor, but they also give lunch a nice little crunch and pair well with almost anything.
Make your own: How To Make Everything Bagel Spice
9. Always add an unexpected ingredient to whatever you're eating.
This is my favorite approach to cooking in general. Take a recipe (or lunch) you love and eat regularly, then mix in (or top it with) something unexpected. Maybe that's adding crumbled bacon or toasted coconut flakes to your PB&J; giving tuna salad a banh mi-style twist with quick-pickled veggies, cilantro, and Sriracha mayo; or topping salads and grain bowls with croutons that taste like pizza, tacos, or Buffalo wings.
Get inspired: 5 Tastier Takes on the Tuna Sandwich
10. Whip up a sauce.
Sauce makes everything better — it can do wonders to perk up even the most drab lunches! My favorite choices are green tahini, pesto, chimichurri, and tomatillo sauce since they are bursting with flavor.
Get inspired: 12 Summer Sauces You Can Make with 5 Ingredients or Fewer
11. Swap the sliced sandwich bread for a good crusty roll.
If sandwiches are your jam, give your bread an upgrade. Not only is a crusty roll totally tasty, but it's also less likely to get soggy than sliced sandwich bread.
12. Switch up your sandwich spread.
Swap out your usual mayo or mustard for a swipe of hummus, pesto, olive tapenade, rose harissa, or aioli, and your go-to turkey and cheese instantly tastes a lot more exciting.
13. Add a swipe of good butter to your sandwich.
You know what else your sandwich needs? Butter! Preferably good-quality, salted butter. I'm a former skeptic turned big believer. Not only does it help prevent soggy bread, but the fat also adds an extra-special richness to sandwiches.
14. Season the greens in your salad.
This is part of the reason restaurant salads always taste so darn good. They always season the greens when assembling a salad, and you should too. It'll reward you with a more full-flavored, impressive lunch salad.
15. Sauté some nuts.
Toasting nuts is a smart trick for upgrading any salad, but it's time to take it one step further by sautéing them first. It's a salty, buttery, crunchy topping that'll make you wonder why you haven't been doing this all along.
Read more: This 2-Ingredient Recipe Upgrades Any Salad
16. Heat up the dressing before adding it to your salad at lunchtime.
Warm salad dressing does wonders for even the most basic green salad. Nuke your dressing in the microwave for a few seconds and you won't regret it.
17. Pack a good piece of bread.
A good piece of bread can really go a long way. Whether you're packing soup, salad, a grain bowl, or a hodgepodge of snacks, some bread is a nice way to round out your meal.
18. Pack a lemon in your lunch bag.
Toss a lemon in with your lunch and you won't be disappointed. Aside from just smelling nice, a squeeze makes water and seltzer more exciting, brightens up leftovers, and makes a great impromptu salad dressing.
Read more: Eating at the Office: Pack a Lemon in Your Lunch Bag
19. Keep a stash of condiments in your desk.
In case you didn't already know, not all condiments need to be refrigerated. This means that instant flavor-boosters like hot sauce, soy sauce, mustard, and ketchup are perfect for stashing in your desk to perk up lunch.
Learn more: 5 Condiments to Keep in Your Office Desk
20. Always pack a treat with your lunch.
A square of dark chocolate, a cookie, a few gummies — whatever your favorite treat is, it has the power to instantly make lunch feel a little more special.
21. When in doubt, add sprinkles.
Remember that you are never too old for sprinkles. And whether you go for rainbow or chocolate, these little gems take everything from PB&J to a yogurt cup to apple slices with nut butter up a notch.