10 Easy Ways to Eat More Fruits and Vegetables Every Day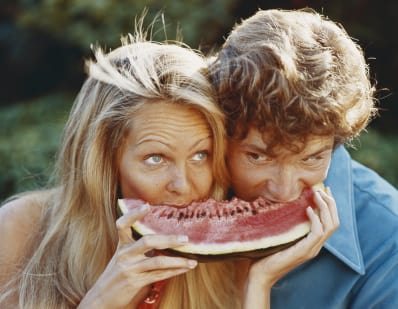 (Image credit: Tom Kelley Archive/Getty Images)
One of the easiest ways to eat a healthful diet is to consume more fruits and vegetables. That sounds fine on the surface, but how do you actually do it? Making salads for lunch every day is an easy way to start, but that can get boring fast. Luckily, there are lots of tricks to squeezing a few more wholesome fruits and vegetables into breakfast, lunch, and dinner, and even incorporating them into snacks and desserts. Let me show you how.
1. Start your day with a smoothie.
The easiest way to squeeze as many fruits and vegetables into your morning meal is to blend up a smoothie. Since they'll break down as they get blended, you can consume a larger amount than you would as is.
Grab a few ideas: These 5 Smoothies Prove That Smoothies Can Be Hearty and Filling
2. Embrace the breakfast salad.
If you're more of a savory breakfast person, there's no reason not to eat salad for breakfast. Yes, really! These can be vegetable-based salads that are finished with a fried egg, grain salads that are packed with fruit or veggies, or simply a compilation of last night's leftovers.
Our favorite recipes: 15 Hearty Salads You Can Call Breakfast
3. Tuck extra vegetables into your sandwich.
Turn your sandwich into a salad between two slices of bread. Or if you're adamant about involving turkey or tuna, be sure you're tucking in plenty of leafy greens like arugula or baby spinach and a few slices of tomato.
Get inspiration: 17 Easy and Satisfying Veggie Sandwich Recipes
4. Roast a bunch of vegetables ahead of time for lunch.
Even if you don't meal prep, it's worth tossing a tray of vegetables in the oven to roast when you have a spare moment on Sunday. Those roasted vegetable can then easily be tossed into grain bowls and salads, slipped into sandwiches, and even just piled on a hummus for lunch.
Learn this tip: The One Thing I Always Do When Meal Prepping Roasted Vegetables
5. Pack a fruit snack.
By fruit snack I mean actual fruit, not those gummy snacks. When your sweet tooth kicks in after lunch, having a clementine or a bunch of grapes to reach for will keep you from scoping out the break room for cookies.
Get a few ideas: Beyond the Apple: 5 Ideas for Eating More Fruit at Lunch
6. Add raw veggies and dip to the dinner table.
If getting vegetables on the dinner table feels like a challenge, consider laying out a crudité platter instead. A mix of whatever raw vegetables are lying around in your crisper drawer with a bit of your family's favorite dressing or dip feels like a fun snack rather than a requisite side dish.
Read more: Your Dinner is Missing a Shared Vegetable Plate
7. Or always serve dinner with a salad.
Another great option is to get in the habit of serving a salad with dinner. It doesn't need to be anything complicated — most nights of the weeks it's simply greens tossed in a basic vinaigrette at my house — but a salad goes with whatever you're serving and always adds a fresh element to the table.
Get inspiration: Easy Side Salads You Can Make in 5 Minutes
8. Make your pasta all about vegetables.
Flip the proportions of your pasta dinner so that you're eating a vegetable dish with some pasta, instead of a pasta dish with some vegetables. It's an easy trick that still ensures a crowd-pleasing meal.
Read more: Pasta is Fast and Cheap. Here's How to Make it Healthy
9. Toss vegetable odds and ends into soup.
Puréed soups are a great way to tuck as many vegetables as possible into a meal. They're also an easy way to clear out vegetables that are languishing in your fridge.
Get a recipe: How to Make Soup From Almost Any Vegetable
10. Consider fresh fruit for dessert.
Not only is fresh fruit an easy dessert, but it's also a feel-good dessert. Peak, in-season fruit usually doesn't need any dressing up, but if that doesn't feel enough like dessert, try broiling it with a little sugar and serve it with a creamy sauce.
Get a recipe: Brûléed Fruit with Mascarpone Yogurt Sauce
Do you have any good tips for sneaking in more fruits and veggies?