I Tried 4 Popular Watermelon Salad Recipes and It Was Almost Impossible to Pick a Winner
We
independently
select these products—if you buy from one of our links, we may earn a commission. All prices were accurate at the time of publishing.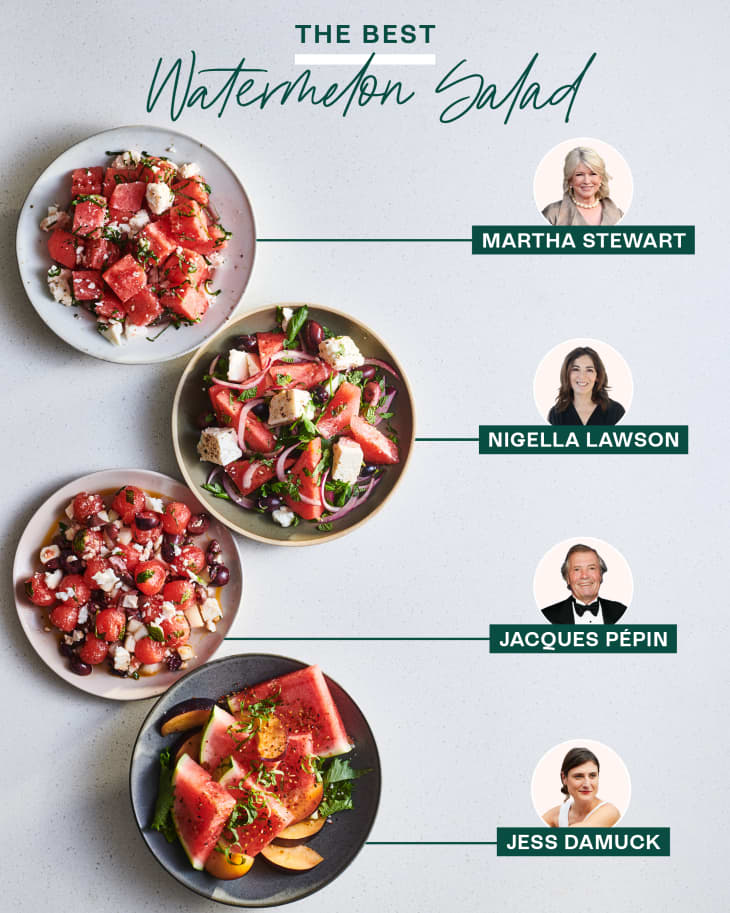 One of my favorite, go-to tricks as a chef is using fruit in savory applications. It always impresses people and it's undeniably tasty. There's something about using an ingredient that's associated with sweets in the context of a savory dish that really scratches an itch for me. In fact, I can vividly remember eating watermelon salad as a kid and being blown away by the combination of ingredients. Fresh, juicy, sweet watermelon with feta? And onions? And fresh herbs? Make it make sense!
So, when the opportunity to try four popular watermelon salad recipes presented itself, I was immediately transported to that awestruck kid at the barbecue who couldn't get over that I was enjoying a watermelon salad next to a hamburger and grilled corn. How could I say no to a challenge like this one?
A watermelon salad might seem simple, but there are subtle variations that can make a big difference in the final dish. What's in the dressing (if there is one)? What fresh herbs are used? How is the watermelon prepared? What other savory mix-ins are added? With all of these pressing questions in mind, I gathered four popular, intriguing recipes and got to chopping.
There's no shortage of watermelon salad recipes on the internet. As far as the instructions go, most of them pretty much call for mixing up a bunch of things in a large bowl, although some call for separate dressing or pickled onions. But as I sifted through what the world wide watermelon web had to offer, a few recipes rose to the top.
Martha Stewart's Watermelon Salad with Feta and Basil: I looked at this one as the classic, no-frills recipe to compare against the other more involved recipes. It calls for watermelon, feta, basil, and lime juice. That's it. I usually gravitate toward more involved recipes, so I wanted to see if, in this case, simple is better.
Jacques Pepin's Watermelon Salad with Feta and Mint: You simply cannot try four watermelon salad recipes without one recipe that calls for watermelon balls. It is the most iconic food shape of the '90s. Dig around in the junk drawer to find the melon baller that you use once a year (if that) and get to work. Jacques also throws in black olives and sweet onions, along with a hot sauce-spiked dressing.
Nigella Lawson's Watermelon, Feta, and Black Olive Salad: I was drawn to this recipe by the quick-pickled red onions that are made by soaking thinly sliced red onion half-moons in fresh lime juice. Does this mellow out the onion-y flavor? I was also curious about the triangular wedges of watermelon and feta. It looks nice, but is it annoying to eat?
Jess Damuck's Watermelon Salad with Shiso and Plums: This recipe — from Jess's cookbook, Salad Freak — got my attention with its inclusion of black plums, shiso, and togarashi. Would these non-traditional ingredients make for a next-level watermelon salad, or is a more classic combo the way to go? I couldn't wait to try all of the recipes to find out.
How I Tested the Watermelon Salad Recipes
I made all four watermelon salads in one day and enjoyed them fresh. While I did save the leftovers, I found that they were all best when consumed the day of. I conducted this recipe testing in early April and I am based in Los Angeles, California, which means that the seedless watermelon I bought from Whole Foods was perhaps somewhat better than what I may have found somewhere else in the country at that time, but was still not nearly as good as in-season, late-summer watermelon. Of course, this was not counted against any of the salads, as I used the same batch of seedless, Whole Foods watermelon for each.
After I made all four salads, I sat with them for a little while in a state of deep, melon-centric thoughts. They all had pros and cons, and the ultimate winner was not an obvious one. I determined the winner based on the one that I felt was the most creative and enjoyable while still staying true to a classic watermelon salad.
1. The Easiest: Martha Stewart
This salad was a great reminder that simplicity and restraint are some of the best tools in the kitchen. Sure, it could have been gussied up with onions, olives, avocado, cucumber, or a fancy dressing, but it's not! Martha said what she said and that's that. It's cubed watermelon, basil, feta, and lime juice. Done and done. The only ingredient that I really did feel like it needed was a little bit of olive oil. Just a drizzle of fat to round it all out and make it taste more like a salad. 
Other than that, I loved the fresh basil (as opposed to the more traditional mint) and I appreciated that the feta was not mixed into the salad and was instead crumbled on top. Martha knows how to make a tasty salad that looks damn good, too.
2. The Most Visually Appealing and Fun to Make: Jacques Pépin
My biggest question going into making this one was whether making watermelon balls was worth it or not. My final verdict? If you want to, then you should, if you don't want to, your salad will not suffer because of it. Many people criticize the balled watermelon method because of the waste that it creates, but Jacques does call for mixing the melon scraps into the salad, a detail I appreciated. 
He also gives the option to cube the melon, so if you don't have a melon baller or the patience, you can always skip it. I will say, though, that balling watermelon is extremely fun (to me, at least) and a great task for a young, eager child.
I really enjoyed the sweet onions, black olives, and, most importantly, the hot sauce-laden dressing. Surprisingly, watermelon is a great vessel for a little heat. I wish the feta was crumbled on top instead of mixed in, but we can't win 'em all, I guess.
3. The Most Creative: Jess Damuck
This salad rethinks what watermelon salad can be and it really impressed me. Even without crumbly cheese or speck of onion, I found this one to be delightfully savory and it kept me coming back for more. It also gave me an excuse to head to my local Japanese market to buy shiso and togarashi.
Because the watermelon is served in triangles with the rind on, it is obviously a salad intended to be eaten with your hands. I put my utensils away and stacked a togarashi-covered plum slice on top of a shiso leaf and a watermelon triangle. I sunk my teeth into this stack and was awestruck by the combo of flavors. Traditional? No. Exciting? Completely. All the bonus points for creativity and FUN. This is about to be my go-to summertime pool snack (this is me manifesting access to a pool in my future).
4. The Best Tasting and Looking: Nigella Lawson
When all is said and done, the fruity summer side that hit all the right notes both visually and flavorally (is that a word?) was Nigella Lawson's watermelon salad. The quick pickled onions were a great touch. I enjoyed them much more than the chopped raw onions that were called for in some of the other salads. 
I was a bit hesitant about the triangular wedges of watermelon and feta, but they were easy to prep and eat. Plus, I found this to be the best-looking salad, if I do say so myself. Because the feta was cut into wedges, there weren't a ton of gritty white specks throughout the salad, which, in my opinion, doesn't look so great.
I enjoyed the combo of whole parsley leaves and fresh mint, and she calls for ample amounts of EVOO to sufficiently dress the melon and cheese. If a friend texted me and asked for my go-to watermelon salad, I'd point them straight to this one. 
Do you have a favorite watermelon salad recipe? Tell us about it in the comments.