Watch the Trailer for David Chang's New Netflix Show "Ugly Delicious"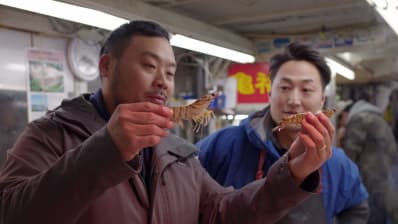 (Image credit: Courtesy of Netflix)
Netflix just released a new trailer for David Chang's upcoming documentary series, Ugly Delicious, and it looks very exciting. The show will start streaming on the service on February 23, and the new trailer is just enough to make us hungry for more.
"Getting hungry?" the new trailer for Ugly Delicious asks.
Of course I'm getting hungry! That trailer just spent a solid minute showing me footage of spices getting tossed in the air, crawfish sizzling, pizza cheese stretching, hot oil bubbling, and David Chang eating hot, messy, delicious-looking food all around the world. Yes, I'm getting hungry. I want to eat all that food all at once, and I also really want to watch this show.
The series will follow David Chang and a series of celebrity guests on visits to kitchens and dining rooms all around the world. Chang's guests include chefs Massimo Bottura and Rene Redzepi; actors Nick Kroll, Gillian Jacobs, Steven Yuen, and Jimmy Kimmel; and food writers Ruth Reichl, Jonathan Gold, and Fuschia Dunlop. (Dunlop is seen in the trailer serving Chang some deer tendons, then asking if he needs a napkin. He does.) David Chang's mom even makes an appearance in the clip.
The food looks entrancing and makes me crave both crawfish and pizza immediately, but the show is designed to be more than just a travel series about tasty dishes. Chang conceived of Ugly Delicious as a forum for "strong opinions and honest conversations about food," and it looks like it's going to deliver, whether guests are talking about fusion food, identity, or the signs that you're in a mediocre restaurant.
All eight episodes of Ugly Delicious are set to be available on Netflix on February 23, and you might want to get ready to watch them all at once.
Will you be checking out Ugly Delicious?