Watch Gordon Ramsay Critique Toddlers in This MasterChef Junior Spoof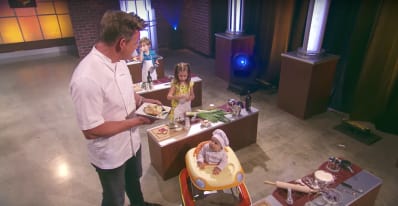 (Image credit: The Late Late Show/ Youtube)
Everyone knows — and either loves or hates — Gordon Ramsay for his hot-headed alter-ego on Hell's Kitchen and blunt criticism on MasterChef. But the sharp-tongued chef has a sweet spot for the kiddos he judges on MasterChef Junior, where he offers hugs and encouraging words to tweens under stress behind the burners.
Now, during an appearance on The Late Late Show with James Corden, Ramsay has started training an even younger set. In a two-and-half minute spoof segment called MasterChef Junior Junior, he enlists a group of toddlers to get to work at their respective stations. After they're let loose on a slew of ingredients — and freely pour entire jars of marinara all over the counter — he takes to judging their so-called dishes, including Play-Doh donuts and dinner rolls stuffed with toy cars.
While the concept is cute (and totally hilarious), it's also like watching an episode of kindergarten from hell, as 5-year-olds drag blenders by the cord, stomp pizzas into the ground, smash raw eggs onto cutting boards, and shove their little hands into entire jars of mayo. It's total insanity and yet somehow we couldn't stop watching.
Of course, Ramsay is no stranger to people crying in his kitchen. So when he says, "You should be ashamed of yourself! Don't look down when I'm talking to you, at least look me in the eyes!" to an actual infant, we expect water works. But the twist of irony here is that James Corden ends up being the biggest baby of all. After eating some questionably raw meat from one of the kids, he doubles over and lands in the loo, where Ramsay has to check on him and say, "Right now I need you to be a big boy."