On Wanting To Eat Dinner in the Kitchen (So That's What This Cure Was All About!)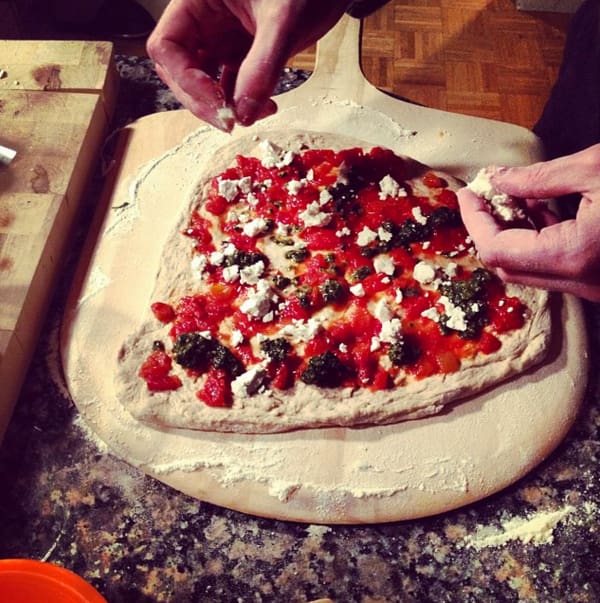 Day 9 Task: Cook yourself a meal
I don't need an excuse to make pizza. Seeing as how it's my favorite food of all time, it doesn't take much to convince me that it's a good time to crank the oven to 500 degrees and roll out some dough. So that's what I did for today's task, and it might have been just another meal in the Bold home except for one thing: my husband and I ate dinner in the kitchen.
Two weeks ago you would not have found me willingly sitting down to any meal in the kitchen. Even though we have an island that works as an informal dining table, the kitchen was just... not a place I liked to spend a lot of time. Yes, of course we'd spend time in the kitchen while cooking, but as soon as the food was ready we'd make a speedy exit to the porch, or the dining room, and yes, sometimes the couch. There was nothing about the kitchen that said — Stay! Relax! Eat and enjoy yourself here!
But then my kitchen transformed. I cleansed the fridge of its bags and got rid of the sticky mess in the pantry; I cleaned a terrible oven while my husband washed the floor with a sponge; I got a shiny new soup pot, installed two great wall lights, bought a plant (which I'm really hoping I can keep alive this time) and, most dramatically, repainted the kitchen entirely.
Then, nine days (plus a weekend) after I started The Kitchn Cure, I found myself wanting, for the first time, to eat dinner in the kitchen.
And so we did, and it was lovely. My husband took charge of making the pizza, while I sat with him at the island, doing a little work and reading on my laptop. We drank wine, talked, played a little music. And when the pizza was done, we didn't cut and run; instead, we cleared the workspace, washed the granite, and set the table at the island, sitting right across from one another on the bright yellow stools I'd just bought.
It was cozy, and before I knew it three hours had gone by — three hours we'd just spent hanging out in the kitchen. And that is exactly how it should be.
Join The Kitchn Cure!
SIGN UP
FOLLOW ALONG
SHARE YOUR PROGRESS
Questions? Comments? Pictures? Email us at kitchncure@thekitchn.com
Follow and show your progress on Instagram, Pinterest, Facebook and Twitter! Use The Kitchn Cure hashtag: #kitchncure
(Images: Cambria's Bold Instagram)