Ensaymada for All: My Vegan and Gluten-Free Take on the Filipino Pastry
We
independently
select these products—if you buy from one of our links, we may earn a commission. All prices were accurate at the time of publishing.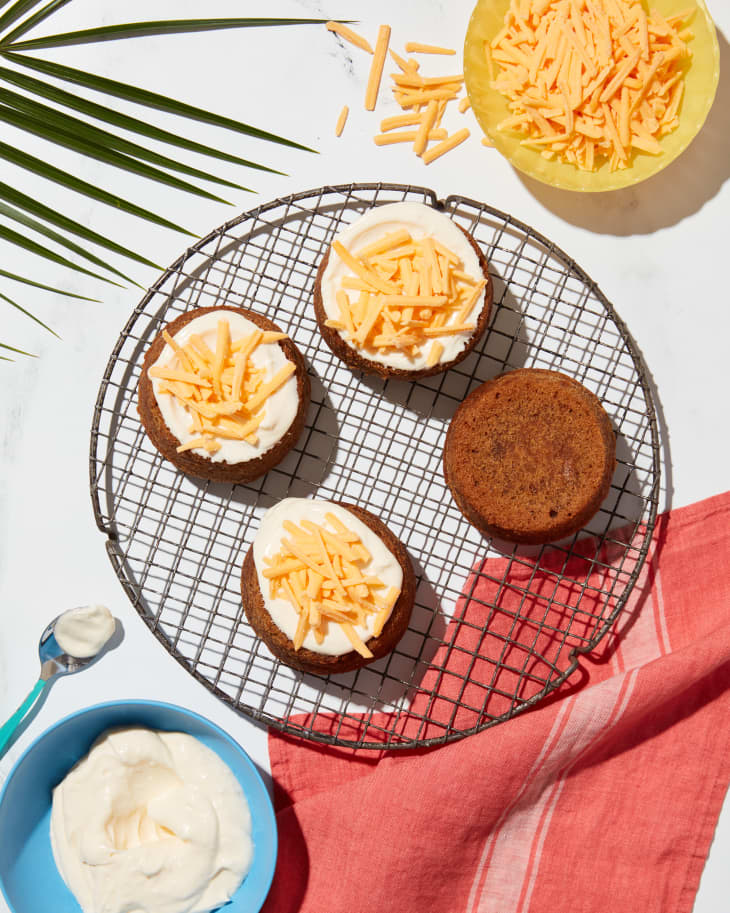 When I think of Filipino breakfast, my mind goes straight to my favorite pastry, the ensaymada. When I was growing up, going to Goldilocks and getting ensaymada was one of my favorite treats. As I got older, I learned more about the complex history of ensaymada and its Spanish colonial roots. I then learned how deeply influential Spain was on Filipino cuisine and pastries, as it was on many aspects of our culture as a colonized people. In my process of understanding my Filipino identity and decolonizing myself, ensaymada still remains as a nostalgic staple that reminds me of home.

This recipe is a modern adaptation — as I am now quite gluten- and dairy-intolerant — because I wanted to make a version of ensaymada that's quick to make and has lower cholesterol. This quick, easy, and tasty ensaymada is something you can bake or even microwave on-the-go before school or work. This recipe feels like a metaphor for my own understanding of being a mixed-race Filipina American — always adapting, finding my anchors, mirroring semblances of my ancestors — and defining it as my own all the same.
And the name? It's just a play on words as an additional adaptation of the dish! Because some folks might not view this as "legit" ensaymada, it's my way of adapting and still serving a breakfast pastry that slays.
EnSlaymada: Vegan and Gluten-Free Ensaymada Recipe
A plant-based and gluten-free spin on ensaymada, the Filipino sweet bread typically enjoyed for breakfast.
Prep time 15 minutes
Cook time 20 minutes
Makes4 cakes
Nutritional Info
Ingredients
For the cake:
1/2

cup

water

1/4

cup

Bob's Red Mill Vegan Egg Replacement

3/4

cup

gluten-free all-purpose flour

1/2

cup

granulated sugar or coconut sugar

1

tablespoon

baking powder

1/4

teaspoon

kosher salt

8

tablespoons

(1 stick) unsalted vegan butter

1/2

cup

unsweetened almond milk
For the icing and topping:
8

tablespoons

(1 stick) unsalted vegan butter

1/4

cup

vegan cream cheese (2 ounces)

1/4

cup

granulated sugar or coconut sugar

Shredded vegan cheddar cheese, for topping
Instructions
Place 1 stick unsalted vegan butter and 1/4 cup vegan cream cheese (2 ounces) for the icing in a medium bowl. Let sit at room temperature until softened.
Make the cake:
Arrange a rack in the middle of the oven and heat the oven to 350ºF.

Place 1/2 cup water and 1/4 cup Bob's Red Mill Vegan Egg Replacement in a small bowl and whisk to combine. Let sit while you prepare the butter and dry ingredients so it can thicken.

Place 3/4 cup gluten-free all-purpose flour, 1/2 cup granulated sugar or coconut sugar, 1 tablespoon baking powder, and 1/4 teaspoon kosher salt in a medium bowl and whisk to combine.

Melt 1 stick unsalted vegan butter in the microwave or on the stovetop. Add the melted butter, egg replacement mixture, and 1/2 cup unsweetened almond milk to the flour mixture and whisk until a smooth, slightly sticky batter forms.

Divide the batter between 4 (6-ounce) ramekins. Place the ramekins on a baking sheet. Bake until golden-brown and a tester inserted into the center of a ramekin comes out clean, about 20 minutes. Meanwhile, make the icing.
Make the icing:
Add 1/4 cup granulated or coconut sugar to the softened vegan butter and cream cheese. Stir with a spoon until combined.

Let the ensaymadas cool for 5 to 10 minutes. Run a serrated or thin flexible knife around each ensaymada to loosen. Carefully transfer the ensaymadas to a wire rack and let cool completely, about 45 minutes.

Evenly frost the sides and top of each ensaymada with the icing. Sprinkle with shredded vegan cheddar cheese if desired.
Recipe Notes
Storage: Leftovers can be stored in an airtight container at room temperature for up to 3 days.