Live Out (Literally) All Your Kitchen Dreams at This Miami Vacation Rental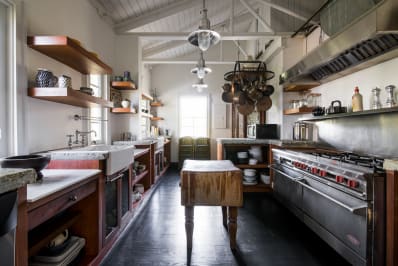 (Image credit: One Fine Stay)
Vacation Rental: Deco Gardens in Miami Beach, Florida
Sleeps: Up to 6 people
Price:$700 per night
Why We Wanna Cook Here: Just look at that kitchen.
This Miami Beach kitchen has it all going on. We're not even sure where to start. The double range! The full-size griddle! The copper pots! The farmhouse-style sink! The second farmhouse-style sink! The butcher-block island! The marble countertops! This is the kitchen dreams are made of, so get your chef's thinking cap on and get ready to whip up all sorts of deliciousness.
(Image credit: One Fine Stay)
Who Should Go (and When)
With two bedrooms, two baths, and a pullout sofa, the possibilities here are many, although it's worth noting that children under 5 aren't allowed. We do think the setup, with a master bedroom in the main house and a separate guest cottage (with its own bathroom and kitchenette), makes it ideal for couples looking for some private time to go with all that togetherness — or a family with a teenager who'd be thrilled to get her own space.
As for when to go, spring break is just around the corner. We're just saying.
What We'd Cook Here
The real question is what wouldn't we cook here. Those marble counters have key lime pie written all over them. And that griddle? Pancakes are on the breakfast menu for sure — or maybe a grilled cheese Cuban sandwich?
A Vacation Menu
(Image credit: One Fine Stay)
Another Thing We Love
There's also a sprawling living room, with white rafters, dark wood floors, statement-making artwork, and, oh yeah, that canoe-like planter hanging from the ceilings. We love how it feels stylish and chic, but also comfortable. We'd happily sleep off our food coma on one of those blue sofas.
(Image credit: One Fine Stay)
What to Instagram
The second living room is almost as swoon-worthy as the first and we're especially enamored of those bookshelves (and that ladder!). Plus, haven't you heard? "Shelfies" are the new "selfies."
When we travel we believe in staying in real homes as much as we can; to really taste a place means cooking local food in a local's kitchen. We Wanna Cook Here is our series devoted to our favorite vacation rentals, each with a kitchen worth savoring.