Overindulged? Try a Drop of Bitters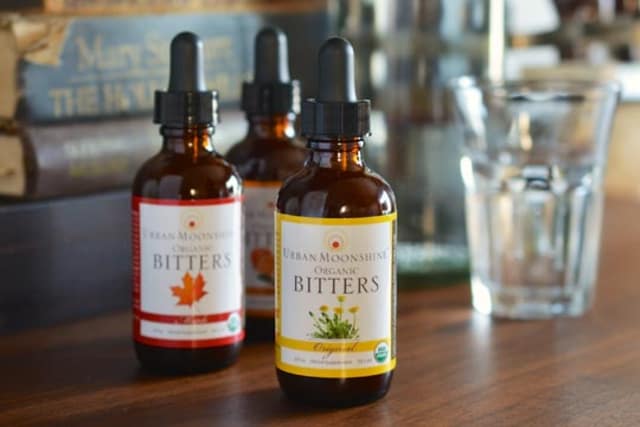 Bitters are an essential bar ingredient, but did you know they were originally a staple of the medicine cabinet? Even today bitters may be just the thing if you need to settle your stomach after indulging in a big meal.
Bitters have a long and curious
history
, evolving from medicinal purposes to cocktail ingredients. In recent years bitters have not only experienced a revival among cocktail aficionados, but also people looking for ways to support the digestive system. A
study
published in the
International Journal of Food Sciences and Nutrition
, for example, found that bitter foods can stimulate the release of the body's natural digestive enzymes.
Rather than drinking a fancy after-dinner
digestif
or bitter liqueur, I've been going the simpler, more direct route of a drop of aromatic bitters on the tongue, or
in a glass of sparkling water
. I love the warm, herbal flavor and have found that it really can soothe indigestion and bloating. (Bitters can also be taken as an
aperitif
before
a meal.)
Since trying to incorporate more bitter flavors into my food and drink, I've quickly become a fan of Urban Moonshine. This small Vermont company hand crafts wonderfully herbaceous bitters from organic ingredients like dandelion, burdock, orange peel, angelica, and gentian. In addition to their Original bitters, they make a citrusy Orange flavor and a lightly sweet Maple flavor.
Do you ever take bitters for digestion?
Related: Cocktail Basics: All About Bitters
Apartment Therapy Media makes every effort to test and review products fairly and transparently. The views expressed in this review are the personal views of the reviewer and this particular product review was not sponsored or paid for in any way by the manufacturer or an agent working on their behalf. However, the manufacturer did give us the product for testing and review purposes.

(Images: Emily Han)