Um, Hello, Martha Stewart Was a Total Babe in the 1980s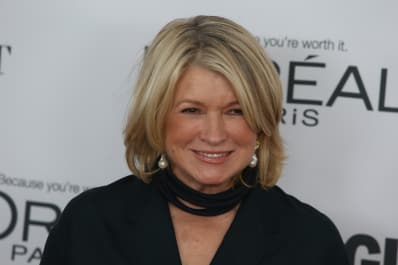 (Image credit: a katz/Shutterstock)
Have you ever found an old photo of yourself and thought, "Dang! I looked amazing!" Well, Martha Stewart just did, and she shared the totally rad 1980s flashback photo to Instagram.
Martha Stewart has always been beautiful, of course. Before she became one of the world's most successful businesswomen and entrepreneurs, she worked as a model in New York and Paris to help supplement her scholarship to Barnard College, where she studied history and architecture. And she's still just as gorgeous at 76. If she wrote a book about skincare, I would buy it and memorize the whole thing.
But it's always fun to find old photos of ourselves in retro clothes, and Martha Stewart seems utterly thrilled by this photo of herself in peak '80s style.
"My assistant found this great photo of me in my library at turkey hill. Wish it was taken last month!!!" she wrote of the very glamorous snapshot of her sitting in her library, clearly about to go out somewhere very exciting for the evening.
"Gorgeous!" "Look at you Martha!" and "Ooooooo la la," her fans responded.
The photo was taken by Henry Wolf, and Martha Stewart looks fierce in her '80s going-out look. The '80s were not, by and large, known for being the most flattering of decades, but Martha Stewart looks like she just walked in off the set of Bonfire of the Vanities.
I love photos of people in clothes that are very clearly of a specific era. There's just something so fun about finding a picture of, say, your mom in bell bottoms. It makes me wonder if someday my kid is going to see pictures of me from the late '90s and think, "Look at mom wearing a velvet choker and brown lipstick!"
Although my kid might wind up finding me in more of an '80s outfit, because Martha Stewart is seriously making me think about trying to recreate this whole look right now, sheer black nylons and all.