Twenty-Dollar, Twenty-Minute Meals by Caroline Wright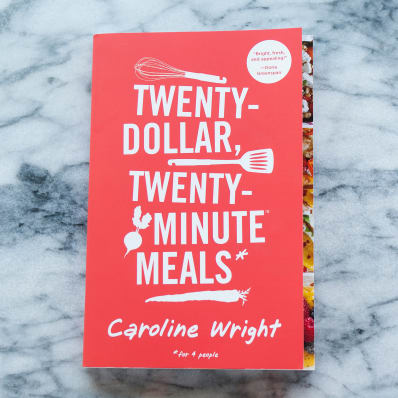 Do you ever wish that you could have a little genie on your shoulder who would just tell you what to make for dinner? Me, too. I think this book Twenty-Dollar, Twenty-Minute Meals is that genie. It's a straight-shooting cookbook full of the kinds of quick, no-fuss recipes that we crave on any given weeknight.
Quick Facts
• Who wrote it: Caroline Wright
• Who published it: Workman
• Number of recipes: Over 90
• Recipes for right now: Grilled Summer Squash and Halloumi Salad, Spicy Soba and Spinach with Shrimp, Red Lentil Soup with Brown Spiced Butter, Grilled Vegetable Sandwiches with Fresh Aioli, Spaghetti with Ramps and Bread Crumbs, Tomatillos Huevos Rancheros, Roasted Sausage Meatballs with Fennel and Tomatoes
• Other highlights: This is one of those smart cookbooks that will sneak its way into your regular rotation. The recipes are fresh and inventive, but also feel immediately doable without extra runs to the grocery store or unfamiliar techniques. You can flip to any page and be cooking in minutes.
I really like how these recipes are written the way we cook. Instead of an ingredient list with various prepping instructions followed by the recipe itself, this book nixes the ingredient list and integrates everything right into the recipe. Highlights over the ingredients help us with scanning and making shopping lists.
My one wish is that there was some indication of price-per-recipe with each dish. I know this is difficult given the differing price for groceries across the country and people's various shopping habits, but even knowing which recipes are cheaper and which are more splurgy would be helpful when planning meals and budgeting.
This quibble aside, I give this book a big thumbs up. These recipes will be a boon for planning weekly menus that keep us engaged and happy in the kitchen.
• Who would enjoy this book? Cooks needing inspiration for quick and easy weeknight dinners, budget-minded cooks, new cooks looking for simple recipes
Apartment Therapy Media makes every effort to test and review products fairly and transparently. The views expressed in this review are the personal views of the reviewer and this particular product review was not sponsored or paid for in any way by the manufacturer or an agent working on their behalf. However, the manufacturer did give us the product for testing and review purposes.
(Images: Emma Christensen)
Kitchn supports our readers with carefully chosen product recommendations to improve life at home. You support us through our independently chosen links, many of which earn us a commission.