TSA Is About to Start Checking Snacks, So Get Ready for Airport Security to Take Even Longer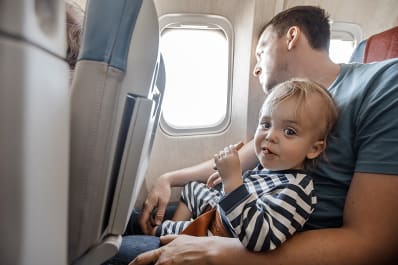 (Image credit: Demkat/Shutterstock)
It's a good thing we live in a world with flight attendants and tiny bottles of airplane liquor, because TSA has stepped up its screening of carry-on snacks, and it looks like going through airport security could get even slower and more exasperating for everybody.
What You Need to Know About TSA Screening and Snacks
According to The Daily Meal, TSA officers have been making passengers remove all snacks from their bags before screening. This means lines are getting held up by passengers digging around for every last Power Bar or bag of trail mix. Some people have even been pulled aside and made to go through security again because of errant snack foods they'd forgotten were in their bags.
The New York Times' Shivani Vora reports that she was held up in security for 15 extra minutes because of the nuts, crackers, and instant coffee packets she likes to travel with, but a TSA spokesperson told her there is not actually an official policy that all passengers must remove snacks from their bags. Security can ask people to remove snacks if they think it's necessary, because sometimes snacks can look like explosives on the X-ray cameras.
Lately, however, people have reported seeing that option enforced a lot more often. Stellene Volandes, the editor in chief of Town and Country magazine, told the Times that she was held up for five extra minutes in security after she was flagged for additional screening because of a package of dried peaches she'd forgotten were in the bottom of her bag. She said the woman in front of her "had gone on a full Costco run," and it took her 15 minutes to find all the granola bars and other snacks in her bags.
I haven't flown recently, but the idea of having to go on a snack hunt in my own bag is pretty intimidating. I have a small child, so when I travel my handbag is basically the Little Mermaid's treasure cavern, but for snacks. I've got granola bars and string cheese galore in there. You want goldfish crackers? I've got 20. But if you asked me to pull out every last edible item while a line of people backed up behind me, I'd probably cry.
Here's What You Can Do to Prevent a Delay in the Line
There's no way to stop TSA from screening all snacks, and no real way to know in advance if an officer is going to do it or not — many don't. So the best way to handle the situation is to pack any snacks separately, the way we already do for toiletries and small liquid bottles. That way if someone does ask you to remove all edibles from your carry-ons, you'll be able to do so quickly and won't get held up by an impromptu granola hunt.
Have you noticed this too?