The Most Popular Cheese at Trader Joe's Seems to Be Almost Universally Loved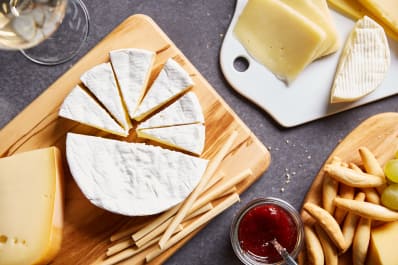 (Image credit: Martí Sans/Stocksy)
A couple of months ago, I reviewed nine of the best cheeses at Trader Joe's, because I have the best job in the history of jobs. Because pretty much everything in the cheese case is delicious — and because I am the kind of person who would spend all of her money on cheese — I asked my Facebook friends to help me narrow it down by recommending their favorites.
I was completely unprepared for the number of enthusiastic cheese-related comments that post received, and I was also surprised by how many people said that Unexpected Cheddar was their hands-down fave.
If I wasn't already engaged, I would marry Trader Joe's Unexpected Cheddar.

— Patti Murin (@PattiMurin) January 12, 2015
My friends aren't the only ones who flat-out obsess over it: Unexpected Cheddar was named the Favorite Cheese in Trader Joe's annual Customer Choice survey. And despite initially questioning that decision, I've learned that the Unexpected hype is real.
What is Unexpected Cheddar?
It's an aged white cheddar that has an "unexpected" hint of Parmesan. That addition gives the cheese a more crumbly texture than a traditional cheddar, and it also gives it a mild salty, nutty bite. ("This cheese comes in the door with an attitude," my boyfriend said after his first bite.) And, like much of TJ's dairy section, it's made from milk from cows that are not treated with rBST.
How are you supposed to eat it?
ON EVERYTHING. It's good by itself on a cheese board or charcuterie plate, melts well on burgers, and makes an excellent grilled cheese. I like to grate it on pasta because the Parmesan is subtle enough that it won't overpower, say, a good tomato sauce or a complex ravioli filling. Some of my friends — whose cheese opinions I completely trust — swear that it's great in quesadillas or crumbled on top of pizza too.
What's the final verdict?
This cheese is legit. Even Reddit's r/cheese subreddit has repeatedly praised it, suggesting that it's one of the best value "crumbly, crystally, extra sharp cheddars" out there. It's versatile, affordable (about $4 for seven ounces), and very good. I'd even say it's ... unexpectedly good (aaaand now I'll show myself out.)