Trader Joe's Now Has Chocolate-Covered Frozen Strawberries Just in Time for Summer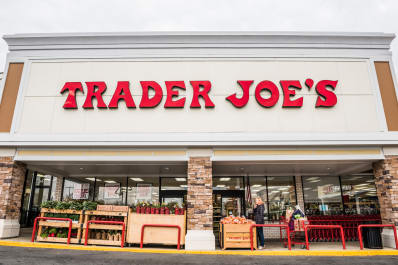 (Image credit: ablokhin/Getty Images)
The already-amazing frozen section at Trader Joe's just got even cooler. The store's beloved "Gone Bananas" frozen chocolate-covered banana slices just got a brand new sibling that's full of strawberries, and it's basically made for summer snacking. If you can get them home during the hot weather without eating the whole box in the car, I will be very impressed.
Gone Bananas is really just a convenient box of banana slices, dipped in chocolate and frozen. It's a simple thing, but it's a really nice treat to have at hand.
Now Trader Joe's new Gone Berry Crazy takes the original premise behind Gone Bananas — that fruit is good when covered in chocolate and frozen — and expands it to strawberries. Brilliant! Now boxes of frozen, dark chocolate-covered strawberries have been spotted in the Trader Joe's freezer, and people are loving them. You don't even have to defrost them or prepare them in any way. Just eat them frozen right out of the box.
I'm honestly astonished it took so long for Trader Joe's to come out with chocolate-covered frozen strawberries. People adore Gone Bananas, and chocolate-covered strawberries are already an icon. Popping some of them in the freezer alongside the bananas seems like it would be the next logical development.
According to the blogger behind Become Betty, a 5.3-ounce box of frozen, chocolate-covered strawberries sells for $2.29, and they're only available in dark chocolate, not milk chocolate. They contain milk so they're not vegan, but they're a comparatively healthy snack, too.
A box contains about four six-piece servings, and each serving is just 100 calories. Chocolate-covered strawberries are one of my very favorite things, so statistically speaking, I realize I am likely to eat the whole box in one sitting, but honestly, I'm OK with that.