Cult-Favorite Trader Joe's Products You Can Order with Amazon Prime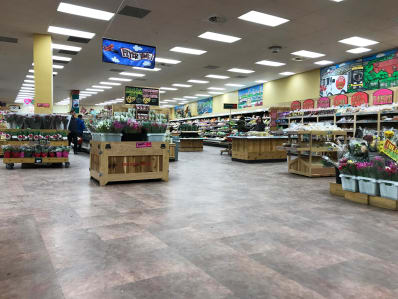 (Image credit: Jeff Bukowski/Shutterstock)
Not all of us live near a Trader Joe's (or find ourselves willing to brave the crowds and stand in line for who knows how long). And while Trader Joe's says it will never add an e-commerce option to its site, it's worth pointing out that you can buy some classic Trader Joe's items on Amazon — with Prime shipping, no less!
Just be warned: The prices are often higher this way than in stores. (These products are usually sold through a third-party vendor and shipped through Amazon.) But you could end up saving your gas money (and your sanity), so it's really up to you to weigh your options.
People aren't joking when they say this everything seasoning is everything. Like other everything seasoning options, this one contains sesame seeds, poppy seeds, dried garlic and onion, and sea salt flakes. But it tastes so much better than other brands. And if you haven't had this Chile Lime Seasoning, stop what you're doing and order it. It's a blend of salt, chili powder, and lime juice powder. Put it on fruits and veggies or even some chicken or fish. Now.
These sponges are usually $10 in the store, so you're not really spending THAT much more to get them online. And honestly, we'd pay more than $20 for these because they're that good. They're made of natural vegetable cellulose and lather up just right.
Even at this higher price, you're still only paying $1.50 per eight-ounce cup of coffee. If you're one of those people who drinks iced-coffee year-round, it's worth buying one of these bottles now — Trader Joe's concentrate is bold, smooth, and a favorite of many.
Toss one of these in your dryer and it'll leave your clothes smelling like fresh lavender. And when you're done, you can sprinkle the bag's contents onto your carpet and vacuum them up for a better-smelling rug.
This spicy mayo actually gets discontinued and reinstated fairly frequently, so looking for it on Amazon might be the best way to go. Use it on salmon burgers, in tuna salad, or on any sandwich that could use a good zing.
We know so many people who are obsessed with this stuff. And it's another one that's hard to find in the stores (our former Food Director almost cried real tears when her local Trader Joe's didn't have any). Try it with eggs, Greek yogurt (seriously), or some pasta.
Related: This $3 Trader Joe's Find Is My Secret Weapon for Quick Meals
When we asked Kitchn readers to name some of the best products at Trader Joe's, so many of you said nut butters! Any and all nut butters. This is made with steam pasteurized almonds (instead of roasted) and saltless, so lots of people prefer it over saltier options.
Read more: 17 Trader Joe's Products That Our Readers Love
Have you bought Trader Joe's products on Amazon before? What'd you get?
Kitchn supports our readers with carefully chosen product recommendations to improve life at home. You support us through our independently chosen links, many of which earn us a commission.