Why Is the Produce at Trader Joe's So Freaking Disappointing?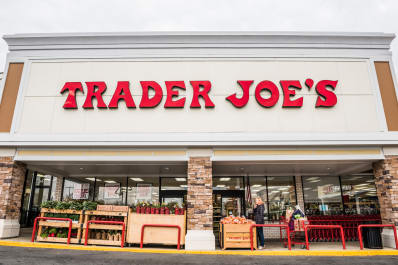 (Image credit: ablokhin/Getty Images)
Someone has to say it, so it may as well be me: As great as the other sections are at Trader Joe's (it's my go-to for wine, cheese, cut flowers, frozen foods, and snacks), the produce section is just so ... meh.
Why, though?
Sadly, the produce section at Trader Joe's has always disappointed me; I skip it almost entirely except for a handful of staples like a bagged salad (I do love the baby spinach) and the 19-cent bananas. Instead, I buy most of my fresh fruits and veggies from local farm stands or at Whole Foods, which, at the end of the day, isn't all that different from TJ's in terms of price.
Here are five reasons I find the produce at Trader Joe's so darn disappointing.
1. There's no real variety.
I like to mix up my diet and try new things — variety is the spice of life, right? And since Trader Joe's markets itself as a global store, it's strange to me that they don't have a more exciting selection of fruits and vegetables. Even the cheap-o grocery store in my hometown suburb carries more unusual items like Ugli fruit, kumquats, and dragonfruit.
2. The pricing system is wacky.
I'm not a fan of produce sold by the unit — when, instead of weighing the item, you pay the same amount regardless of how big or small it is. I prefer zucchini and squash on the smaller side, because I think it tastes better (plus, I've found the smaller ones don't have as much moisture so they're better for spiralizing) and it's usually a bonus that, since they weigh less, they're cheaper. Win-win for me — except at Trader Joe's where you usually pay per item.
3. They use so much unnecessary packaging.
Plums, peaches, tomatoes, and the aforementioned zucchini don't seem to be items that need packaging. I like to be able to pick up one at a time and inspect each one, test for ripeness, and make sure there's no weird bruises or wormholes. Because Trader Joe's packages these items in plastic boxes or wrapped on paper trays, it's pretty difficult to know what you're buying. Not to mention that this practice isn't very environmentally friendly!
4. So much of it is packaged in bulk.
I revere TJ's for their selection of single-serve frozen dinners; I've been eating them since college, and love the fact that there are so many great options for just a few dollars each. Since this aisle seems to cater to single folk, why is it so difficult to buy small amounts of fruits and veggies?
There's no way I'll be able to finish half a dozen plums before they go bad, or eat a bag of grapes before they start to get moldy. At other grocery stores or farm stands, you can usually purchase the exact amount you want — no need to be afraid to break up a bunch of asparagus or scoop a handful of grapes into a separate bag.
Because produce is sold by weight at almost every other store, you can buy whatever amount works for you. As someone who hates wasting food and money, it's hard for me to justify bulk purchases of something that goes bad so quickly. A jar of cookie butter is another story ...
5. The quality of the produce just isn't that good.
If I'm going to buy a bag of apples, I want them to be good apples. (So that I like them apples!) I feel like the apples and other produce at Trader Joe's is just fine. Nothing to write home about — like, say, the produce at Whole Foods. Plus, why does it seem like the stuff from TJ's spoils faster than other produce?
What do you think? Do you agree or should we agree to disagree? Leave your thoughts in the comments below!