I Tried Trader Joe's Wacky New Condiment and Here's What I Thought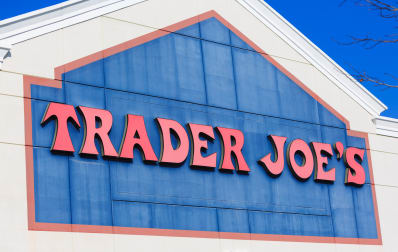 (Image credit: Cassiohabib/Shutterstock)
I have finally found the END ALL, BE ALL condiment, people! To be completely honest, when I first heard about my favorite grocery store's (Trader Joe's) new Blue Cheese Mustard, I had a few questions and concerns.
Do those two entities go together? Why are we messing with a good thing?
Do I really need another mustard in my fridge? (I already have yellow mustard, Dijon mustard, honey mustard, and spicy brown mustard.)
What will it SMELL like?
But, for the sake of research, I threw all caution to the wind and made the two-block journey to pick myself up a jar. Behold!
Here are the answers to my questions.
Yes, blue cheese and mustard go together. Two good things become one GREAT thing.
There is always room in the fridge for another kind of mustard. You can quote me on that.
TBH, yes, it smells a little weird, but blue cheese is inherently stinky so you'll get past that in a jif. Also, why are you smelling it, you weirdo?
If you like Dijon mustard and blue cheese as individual items, then you will love the magical marriage that occurs when the two become one. Neither the mustard nor the blue cheese overpower each other, leaving the best of both flavors to shine through. The consistency is smooth, but thick (don't worry — there are no chunks in it). It's vinegary, cheesy, umami-y, and mustard-y. I can't wait to slather this on sandwiches; baste salmon with it; dip pretzels, chips, crackers, and crudités in it; make salad dressing with it; and swan dive my chicken nuggets into it. Most of all, though, I am looking forward to dunking the copious pigs in a blanket I will be eating this holiday season in it. The possibilities are endless.
It's okay if you go through a jar of this in one weekend (like I'm about to), have no fear — it's only $2.99 a pop. God, I love Trader Joe's.
What do you think? Would you try blue cheese mustard?