The Best Yogurts — with the Least Amount of Sugar — for Toddlers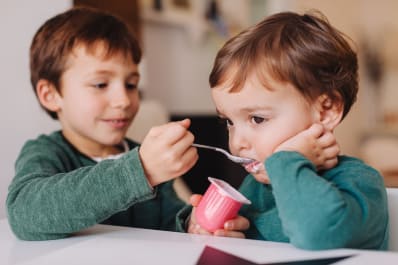 (Image credit: BONNINSTUDIO/Stocksy)
Yogurt is a staple of toddlerhood, and rightly so. It's a great way to get some calcium, protein, vitamin D, and belly-beneficial probiotics into little ones in a sweet and creamy format they love. And these days, there are more flavors and varieties to choose from than ever before.
The biggest pitfall: Almost all yogurts have added sugar. It's not usually a lot, but the American Heart Association recommends that kids eat less than 25 grams of added sugar a day. If a yogurt cup has 10 grams of added sugar (looking at you, Trader Joe's), then your kiddo just had nearly half of his or her allotment in one go.
By late July, the FDA will require nutrition labels to show how much added sugar is in a product. But until then you'll have to do the math yourself. Just keep in mind a 4-ounce serving of plain whole milk yogurt has about 5 grams of naturally occurring sugar from the lactose in the milk. So any number above that will be added sugar.
To help you make informed choices, we scoured the shelves and looked at every single yogurt we could find in the refrigerator case. (We seriously looked at 30 different yogurts! We didn't evaluate shelf-stable toddler yogurts, as those don't have probiotics.) Based on what's out there, we firmly believe these are the five best yogurts — in a cup, pouch, or tube — you can give your kid.
This version is sweetened only with fruit and vegetable purée and thickened with tapioca starch. Just beware that the cups are a lot smaller than most other yogurts on the market.
The details: A 1.76-ounce cup has 3 grams sugar and 2 grams protein.
There's no added sugar or fruit in this whole milk yogurt, which means you can add in fruit if you (or, really, your toddler) desire. It's thickened with pectin.
The details: A 4-ounce cup has 5 grams sugar and 4 grams protein.
Sweetened only with fruit, this yogurt is made with real raspberries and blueberries. It's thickened with tapioca starch and pectin.
The details: A 4-ounce cup has 7 grams sugar and 4 grams protein.
These pouches are great for on-the-go snacking. They're sweetened only with fruit purée and thickened with tapioca starch and agar agar.
The details: A 3.5-ounce pouch has 6 grams sugar and 3 grams protein.
Another convenient option, the yogurt in this tube is strained, so it has double the protein of regular yogurt in tubes. It's thickened only with pectin.
The details: A 2-ounce tube has 5 grams sugar and 5 grams protein.
Note: When shopping, bear in mind that brands use different formulas for different product lines, so it's a good idea to read all the labels if you're looking at something not on this list. For example, Dannon's Danimals uses fruit purée in its cups, but not in its pouches, and Yoplait adds preservatives to its Trix line, but not the Yoplait Kids line.