Tips For Making the Farmers Market the Only Place You Shop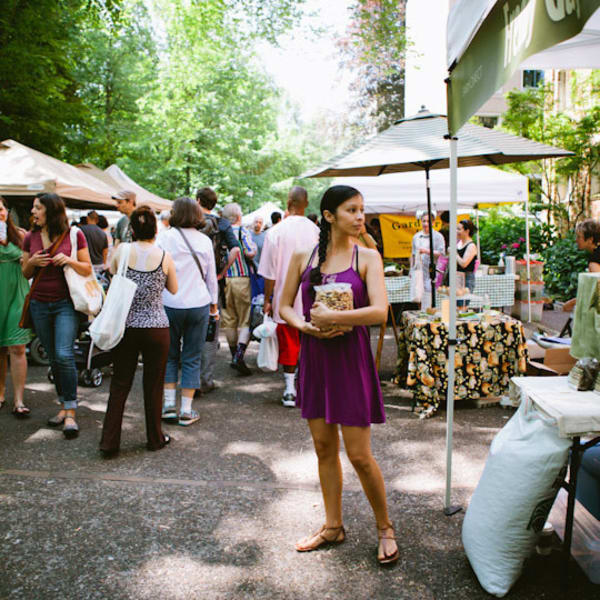 I find shopping at a farmers market relaxing: the colors, the smells, the tables spilling over with fresh, seasonal fruits and vegetables. It is a feast for the senses. Shopping at the grocery store, on the other hand, is usually anything but relaxing. Is there a way to shop only at the farmers market and skip the weekly trip to the supermarket? Sure! Here are my strategies for making it happen.
In order to shop strategically, you need to have an idea of what you will be eating for the next several weeks or month, however long you want to go without stopping at the grocery store. It doesn't have to be exact or set in stone. On my own weekly meal plan, I'll write something like, "Chicken enchiladas with roasted vegetables and salad" and to my shopping list, I'll add "vegetables for roasting" and "vegetables for salad." This leaves flexibility for whatever the farmers market has to offer that week.
Tip 2: Find the Best Farmers Market in Your Area
Look for a market that offers food beyond fruits and vegetables. If you can buy supplies like bread, eggs, cheese, milk, fish or meat at the farmers market, you won't have to worry about stocking up at the supermarket. Here are a couple resources for finding a market near you:
Tip 3: Stock Your Pantry, Fridge & Freezer
Now you have to go to the grocery store — but don't worry! If you do it right, you won't have to come back for several weeks. Bring along a list of all the items from your meal plan that you can't find at the farmers market and don't already have at home. Load up on shelf-stable pantry items like grains, beans, canned tomatoes, canned fish and pasta, as well as items you can freeze, like meat, fish, bread and nuts. You can also stock up on more perishable items like dairy products and eggs, if your local farmers market does not sell them.
Tip 4: Get Creative & Have Fun
Here is the fun part: shopping at the market every week and figuring out what to do with your bounty. Bring along a list of the items you need, based on your meal plan, and be prepared to make changes if the ingredient you had in mind isn't available. Once you get home, don't be afraid to go off book and experiment in your cooking, either by making substitutions to existing recipes or inventing something entirely new. And don't forget to have fun!
Do you have any tips for minimizing trips to the grocery store and making the most of your local farmers market?
This post was requested by heatherjflynn for Reader Request Week 2013.
(Images: Leela Cyd Ross)