Thursday Giveaway: Waring Pro Electric Martini Maker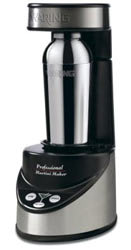 Plug it in to shake or stir. This week, we're working with our friends at Waring to give away a Waring Pro Electric Martini Maker plus a cocktail shaker, set of drink recipes, and a set of martini glasses. That's over $100 of prizes perfect for holiday entertaining.
To enter, please post your boozy comment here.
Favorite cocktail recipe? Best garnish? Tips for stocking the bar for the winter time? We'll kick it off by saying we love martinis made with Hendrick's gin, but think Apple Martinis taste like Windex smells. What's on your mind in the drinks department?
Your comment must be posted by 5 p.m. Eastern time tomorrow, Friday October 26. We'll select one winner at random and will email the winner directly to get a mailing address.
Our review after the jump ...
You know we do not have much patience for single use kitchen gadgets and this $99.95 electric only shakes or stirs cocktails. That is all.
Still, we know this professional martini machine could be a lot of fun at the right kind of party. The machine with a green martini olive for an on light would provides a bit of party theater and get guests mingling. We discovered that everyone wants a turn pushing the "stir" and "shake" buttons. It reminds us of a TMX Tickle Me Elmo for grown-ups.
We suggest hosting a martini party at your place and then packing up the martini-making gizmo at the end of the night for the guest who's up for hosting the next party. If Tom Cruise can't bartend at your party, the Waring just might be the next best thing.
From Our Archive
The Celluloid Pantry: Dirty Martinis and Sabrina
The Celluloid Pantry: Ramos Gin Fizz and Dead Reckoning
Guide to Gin
Who Invented Penne Ala Vodka?
Franny's Rhubarb and Aperol Cocktail
Please opt-in for our weekly email newsletters by clicking the Email Signup button to the right of this post and selecting "kitchen newsletter." We take your e-privacy seriously and do not sell or rent our list
Kitchn supports our readers with carefully chosen product recommendations to improve life at home. You support us through our independently chosen links, many of which earn us a commission.