Next Week's Meal Plan: 5 Family Dinners to Make Before Things Get a Little Crazy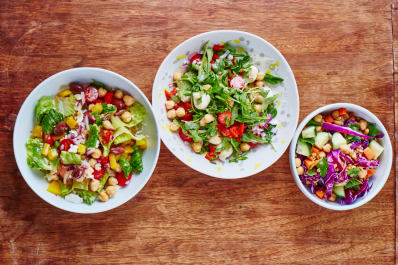 (Image credit: Lauren Volo)
This week kicks off what always proves to be a busy month for our family. Between Teacher Appreciation Week and Mother's Day, and hosting out-of-town guests and finalizing summer camps, we have lots of potluck parties, end-of-the-school-year celebrations, book club meetings, and even a weekend away planned in May.
I'm relishing this week when we only have two things on the calendar as an opportunity to take it easy and stick with some of our family favorites and use up some ingredients languishing in the fridge and freezer.
Welcome to This Week's Meal Plan
Planning my weekly meals is a habit I enjoy. Since I'm frequently asked by friends and family what I'm cooking for dinner each week, I thought it'd be useful to share my weekly meal plan here. Whether you're just learning to meal plan and looking for a real-life example of how this works or you're an old pro on the hunt for inspiration, here's a peek at how I'm feeding my family this week.
I will be eating cheese and drinking wine on Monday night with my book club while my husband and kids have this for dinner. Although it's not traditional, he'll use bacon for the pancetta here and throw a handful of frozen peas into the pasta just before serving. This is one of our family's favorite meals, and something my husband often cooks.
There are a ton of leftovers in the fridge from the past week and weekend that need using up: a container of take-out rice, leftover taco meat, a quick salsa. They're destined for stuffed peppers. If I have time on Sunday during meal prep I may throw these together in advance and just stick them in the oven on Tuesday evening.
Do you guys ever do build-your-own-bowl nights? Sushi bowls and burrito bowls are two of our favorite ways to do just that. Everyone will get a bowl of brown rice and then I'll set out a tray of toppings: toasted nori, diced avocado, shredded carrots, edamame, crispy tofu, and toasted sesame seeds. My husband and I will fill our own bowls, I'll add a few things at a time to my 2-year-old's plate, while my 5-year-old will eat straight from tray, which I don't mind since this snacking-style dinner always gets her to eat more vegetables.
The first Thursday of every month a group of my girl friends get together for dinner (we cleverly call this "Girls Dinner"), but this month we are doing a family-style potluck with kids, husbands, and partners since one of our friends who relocated is in town for the week. There will be hot dogs and burgers, so I'm making a big batch of this chopped salad to share as a side. I'm going to chop all the vegetables together with dressing and just set the lettuce on top the night before. Then I'll toss the whole thing together when we get there.
You guys, I'm going to disrupt our Friday Night pizza tradition a little and try this chicken caesar pizza. There may be a small mutiny against me for serving salad on top of a pizza, but since I'm fairly certain my kids will eat the pizza without the caesar topping, if needed, I'm going for it. This is the pizza I want to eat this week.