This Viral Image Shows What's Really in Your Nutella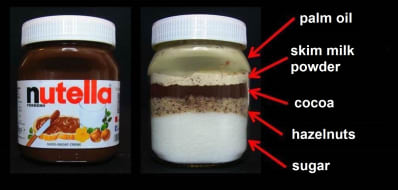 Not all is sweet in the land of hazelnut chocolate. When Reddit user MrFlow uploaded the image of a breakdown of what Nutella is really made of, the hearts of Nutella loyalists shattered around the world. As you can see in the above image, despite being marketed as a "healthy" hazelnut spread with no preservatives or artificial coloring, the now-viral picture busted this notion.
The cult favorite spread, made by Italian parent company Ferrero, consists of five ingredients: palm oil, cocoa, hazelnuts, skimmed milk powder, and sugar. Sounds simple enough, right?
But when you take a deeper look at ratios, it's easy to visualize exactly how much sugar there is and how little hazelnut. Business Insider reports that the nutrition label of Nutella says a 37-gram serving of the creamy spread contains 21 grams of sugar, making more than half the spread sugar.
Also troubling for some is the use of palm oil — a vegetable oil that extends the shelf life of Nutella and gives it the creamy consistency it's known for. The ingredient is viewed controversially for its environmental impact and, more recently, for being a potential carcinogen when heated at certain temperatures.
The European Food Safety Authority (EFSA) released a study that found when palm oil is processed at temperatures higher than 200°C, it releases a carcinogenic chemical called glycidyl fatty acid esters that has been found to cause tumors in rats and mice. As a result, the EFSA categorizes glycidyl fatty acid esters as a "potential health risk" while noting that more research is required. (Ferrero says their products are safe for consumption and ethically sourced.)
That's not to say you have to kick Nutella out of your life. You can opt to make a palm oil-free version with a higher hazelnut-to-sugar ratio at home. Or you can consume it in moderation just as Ferrero intended it to be eaten (like that's even possible).