Is This Portion-Control Wine Glass for You?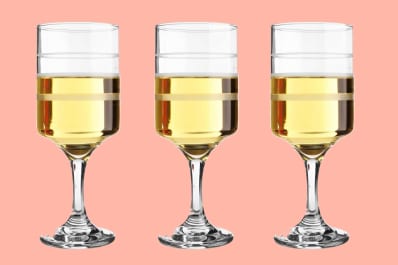 (Image credit: via Amazon)
Today in our Amazon deals column we present you with a dilemma, a potential oxymoron, and the source of vigorous debate among our esteemed team:
Is a wine glass that helps you control your wine portions a good thing? Or a bad thing. Readers, this decision rests with you.
This glass has a distinct feature that you can see right on the glass itself: frosted lines that measure 4, 6, and 8 ounces. So whatever you're pouring in — milk, orange juice, or (let's be honest here) wine — can be easily portioned to your preference.
So. Is this silly or smart. Depends.
On the one hand, wine calories can add up, and huge wine glasses make it so easy to pour yourself more than you really want to drink. The lines on this glass make it easy to see when you've blown past a normal 4-ounce serving.
On the other hand — measuring lines? For wine? The idea of lines on a wine glass seem so prim. The last thing I want to think about on a Friday night is whether I'm drinking 4 or 6 ounces of wine. Just fill 'er up, ma'am.
There you have it: two very distinct opinions from our team. What say you? Portion your wine? Or slosh it out?
And if you think it's a good idea...
But if you'd like, ahem, more subtle ways of eyeballing your wine, try this trick instead:
The Little Secret to Pouring the Right Amount of Wine (No Matter What Glass It's In)
And once you have a glass, let's just get on to drinking:
Kitchn supports our readers with carefully chosen product recommendations to improve life at home. You support us through our independently chosen links, many of which earn us a commission.