Why It's OK to Judge a Wine Bottle by Its Label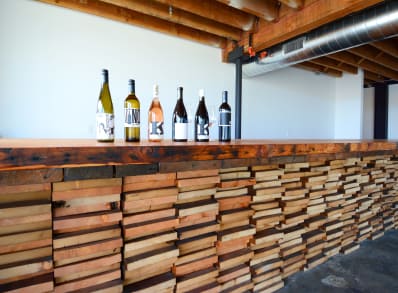 (Image credit: Courtesy of Charles Smith Wines)
Be honest: When you walk into a wine store, do you look for a bottle with a pretty label? I do. I'm a sucker for great graphics, a cute animal, or even a chateau and formal lettering. But is this just good marketing? Is there anything we, as consumers, can read into a label?
When I asked sommeliers if you should judge a wine by its label, their answers were unequivocal: absolutely not. What your bottle looks like on the outside is not an indication that the stuff inside (i.e., what you want to be paying for) is any good.
That chateau on the label that says to me, This wine is serious and seriously good? It turns out basically every wine from Bordeaux has a sketch of a chateau on its label.
Read more: The One Thing You Should Actually Pay Attention to When Buying Bordeaux Wine
Still, even if wine's design isn't related to quality, it is saying something to you. Someone thought to put that chateau or that cute animal on the bottle and they wanted it to send a message of some sort.
Take, for example, this super-minimal bottle design:
(Image credit: Alit Wine via Instagram)
The white-on-white look says: I am elegant, but not showy. I am transparent and accessible. And you know what? These things are true!
I had the chance to sit down with the founder of Alit Wines and this is exactly what he wants to communicate. Mark Tarlov is producing a really, really good Pinot Noir — biodynamic, dry farmed, cluster fermented — and selling it direct to consumers for $28 a bottle. Now, granted, that's still pricey, but Tarlov says the bottle would retail for $65 if he distributed his wine the traditional way.
Here's another, very different wine label.
(Image credit: Tank Garage Winery via Instagram)
When I look at this bottle I get summer, but there's also nostalgia. There's something wistful, even a little sad, about the photo, which feels to me like it's from the Depression era.
Here's what Jim Regusci and James Harder, the owners of Tank Garage Winery, had to say about the design.
"For our Tank Rose label we wanted something that stood out from the 'Sea of Sameness' (as we like to call it) that currently dominates the rosé category. We chose an old family photograph taken on a trip to Southern California in the 1930s. Working with the only custom wine label printer that specializes in Laserweb technology, we added a small cluster of cutout stars that show the unique color of the wine and take on different looks from different angles. The stars also begin to reveal themselves, shining brighter as the wine is consumed, giving our vintage label a unique and captivating look."
The wine, by the way, smells like watermelon, tastes like melon and apricot, and has undertones of honey and spice — and retails for around $16 per bottle.
And here's one more label to consider.
(Image credit: Winc via Instagram)
The first thing that comes to mind is luscious. I also think juicy and maybe a little bit cheap, and also, for some reason, takeout. Like, I want this bottle with my favorite takeout.
In real life, this Scarlet Smack Zinfandel from Paso Robles is just as jammy as you'd expect. It's an easy-drinking wine and, at $13 per bottle, it's definitely a weeknight (read: takeout) wine.
You see my point, I hope: While you shouldn't necessarily judge a wine by its label, that wine label is definitely saying something to you.