This Is the Best Menorah for Millennials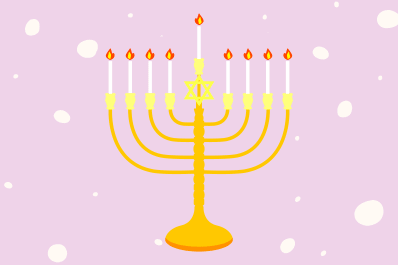 (Image credit: Illustration: Vi-Key/Shutterstock)
According to the data, millennials are drinking #allthewine. A study from the Wine Market Council, an industry nonprofit, found that millennials drank 42 percent of all the wine drunk in the United States in 2015, more than any other age group — an average of three glasses per sitting, to be exact.
In seemingly unrelated news: Neither Baby Boomers, Gen Xers, or millennials seem to want their parents' stuff.
These two things are, in fact, related, though! Hear me out: If millennials aren't volunteering to take their parents' old or bonus menorahs, they'll need something else to use, come Hanukkah time. And I have just the thing (and, yes, I'm technically on the old end of millennial-hood).
It's a menorah! That fits into the neck of an opened bottle of wine! And it comes in a trendy copper color! For stability reasons, the manufacturer recommends using it with a filled (or filled-ish) bottle of wine. So open a bottle of Pinot Noir, pour yourself a glass, light the candles, and wait for them to burn out before helping yourself to a second glass. (It unknowingly helps with pacing, too! Pretty good, considering Hanukkah starts during the work week this year.)
Of course, if you're a millennial (or know one) who prefers a cocktail to a bottle of wine, there's another option for you. May we suggest the Menorasaurus Rex?Made to order using a real plastic toy and sturdy brass candle cups, this guy is sure to never go extinct.
What does your Menorah look like? Where did you get it — is it new or has it been in your family for years?
Kitchn supports our readers with carefully chosen product recommendations to improve life at home. You support us through our independently chosen links, many of which earn us a commission.