The Best Episode of Nigella Bites Will Teach You How to Entertain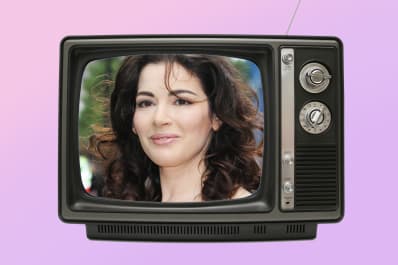 (Image credit: Shutterstock/Shutterstock)
When I'm cooking for a dinner party, at some point I tell myself, "Food tastes fear."
Things have a way of not working out when I'm thinking about them too hard. It's as true of first drafts as well as soufflés: Thinking has very little to do with doing, and "doing" goes poorly if it's not the focus. (Side note: I would never make a soufflé for guests, unless I hauled them into the kitchen and we mixed it up together so we could all get silly and breathless about the results.)
If you are on the cusp of home entertaining and feeling uncomfortable, fidgety, and nervous, I have a solution — a visual bible for home entertaining, a compressed pep talk full of recipes.
It's called "Entertaining," and it's the second episode of Nigella Lawson's circa 2001 show Nigella Bites.
Nigella is not a domestic goddess. Don't be intimidated by her beauty, her ease. She's not superhuman, she's deeply human, and that's what makes her advice so grounded and wise.
Strike all this deity talk from your vocabulary when it comes to the kitchen, where we're all just people trying to get fed and trying to feed each other. There's a term I heard ages ago in reference to Laurie Colwin that applies: domestic sensualist. Nigella is a domestic sensualist, steeped in the messy pleasure of having people over to eat. You can be too.
Here's what I learned about watching the very best episode of Nigella Bites.
1. You are enough.
"When I invite friends over for supper, I don't want to impress them with my cooking. I want to give them, and myself, pleasure," Nigella says in the introduction. She's snuggled into a velvet-covered chair, waving her hands animatedly as she speaks. "[Home cooked food] should reflect our personalities, not our aspirations."
Perfection is boring. Perfection is the occasional dominion of restaurant chefs. Perfection makes people uneasy, and that's the opposite of the goal of entertaining. Welcoming people into your home is a way of saying lets be at ease, together. The vision in your head, the one you can't attain, wouldn't make anyone involved in your meal have a better time.
"When you invite people over to eat, you're not inviting them to some grand ambassadorial event," Nigella says. "It's just your kitchen, your friends."
Guests at your table want to eat a meal with you. You're all in it together. They don't need a dog and pony show. And if they do, I don't know, what's going on? Are you okay? Does this feel like a good idea catering to the whims of judgmental people? I mean, we're not immortal.
Your life is full of potential and beauty and limited time. Take a cue from Nigella and wrap some prosciutto around a pile of green beans and call it a day.
Speaking of ...
2. Embrace abundance.
"The point is to provide a wonderful, abundant table. It doesn't matter what you buy and what you make." Nigella creates a mezze-style spread of foods with a green salad paired with a bowl of ripe little tomatoes; a pile of flatbreads; a big, gooey wedge of cheese; prawns, quickly tumbled into olive oil, garlic, chiles, and a splash of white wine.
She pairs hearty crowd-pleasers with her array of small bites — a Caesar salad with homemade dressing, plenty of Parmesan, and the gentle twist of garlic-roasted potatoes as a replacement for croutons, and a trussed-up loin of pork with bay leaves on an enormous platter. "It looks so wonderful and welcoming and abundant," she coos at her massive main dish. No one would be afraid to take seconds, thirds, to lazily pick at cold bits of meat while drinking a glass of wine hours later.
3. Keep it so simple.
"Having a dinner party doesn't mean you have to start swinging from the chandelier, culinarily speaking," Nigella says. She tarts up store-bought hummus with Greek yogurt and toasted pine nuts. Her husband mixes pitchers of their celebratory house drink, a mixture of asti spumante and loads of fresh lime juice. And for dessert, she creates a make-ahead dessert: a wobbly, soft pink jello mold made with poached rhubarb and muscat wine.
Gelatin is not for everyone, but this dessert concept is malleable and wise. Find an easy sweet that people love, add a fancy element, bask in praise and sugar. Mine is blondies, which I stuff senseless with fresh cranberries, dark chocolate, and candied ginger in the winter. It's colorful, buttery, and festive.
The smallest touches — fresh lime in wine, warm toasted seeds on hummus — make a dish feel special. Save time and tension. When faced with celebration, don't fear simplicity.
4. Don't forget your cook's treat.
Save a few choice bits for yourself — little unexpected bites that bring you joy. Nigella reserves the spareribs when she's cooking her pork and eats them with a huge smile, sauce glimmering on her mouth. Then after the meal, she sneaks into the kitchen late at night to snag a few prawns from the fridge.
Your guests are flushed and fed, happy and full. It's time to enjoy your stolen bites, your favorite bits of your creations. Nigella would want it that way.
What's your favorite episode of Nigella Bites? Let us know in the comments!