The Best Episode of Good Eats Shows Us There Is Magic in the Basics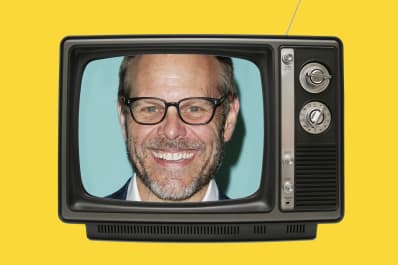 (Image credit: Kathy Hutchins/Design Susanna Hopler/Shutterstock)
The jazzy opening notes of Alton Brown's Good Eats sound like an upbeat jam on a Casio keyboard. For me, this music may as well be a time machine. I watched so much of this show as a kid that the sight of Alton Brown's sharp features can flood my senses with the smell of basement, Moose Tracks ice cream, and the worn fabric of long-gone family couches.
I remember the pop-up-video-style blobs of text that appeared throughout a scene, and how the science that hovered over a bowl of batter seemed way more fun than whatever I was learning at 8 a.m. in a classroom. I remember puppets and deep-fried turkeys. I don't have to remember Alton Brown because, unlike Good Eats, he never disappeared; he stuck around in Cutthroat Kitchen, The Next Iron Chef, and The Next Food Network Star.
But it's coming back! Good Eats is making a triumphant return in 2018 — nineteen years after the first season, seven years after the last. To celebrate, I'm breaking down the best episode of the old show and why I'm so excited for it to return.
This Is the Best Episode of Good Eats
Based on my informal surveys and internet scouring, "A Cake on Every Plate" from season six is no one else's favorite episode of Good Eats, except mine. It's a miraculous combination of simplicity and entertainment — a perfect example of Alton Brown's particular style of kitchen magic.
This is an episode about butter cake with chocolate frosting. It could be boring. It should be boring. And yet it's full of life and death and a deep dive into the mastery required to make seemingly straightforward things.
In the episode a viewer has sent Alton a specimen: one sample of a cake made by a beloved Aunt Gertrude, who recently passed. They have an ingredient list, but no instructions, and they've enlisted the help of cake detective Alton Brown to uncover the secrets to their much-missed family recipe.
I've baked hundreds of cakes in my life. How could 22 minutes on a basic butter cake recipe — one recipe! Unheard of in cooking shows! — be interesting?
Rewatching it for the first time in years, I was riveted.
I scribbled notes. I laughed out loud. I made enough guttural noises that could translate to "Exactly!" or "I never thought of that!" or "Please immediately bring me cake" that my husband wondered if I was having some kind of Alton Brown-related breakdown.
"A Cake on Every Plate" had through-the-roof-schmaltz potential in less capable hands. Dead relatives, beloved family recipes, vintage cakes — it could easily be cloying, saccharine. But like Aunt Gertrude's butter cake, it's never too sweet. It's Betty Crocker in a leather jacket, cozy with a sharp edge.
---
It's Betty Crocker in a leather jacket, cozy with a sharp edge.
---
Alton Brown is an incredible teacher. Ten minutes into the episode, we've done nothing but dissect the ingredients in a cake batter. By valuing this simple process, he makes each ingredient easier to work with, each future cake recipe more inviting.
Is this a 22-minute meditation on the joy of basics? Is Alton Brown the original minimalist?
No, of course not. That's part of what's so delicious about the episode: We're talking about a basic cake, but the experience is peppered with funny bits and asides, historical facts and cameo appearances. Good Eats feels like the clear godfather of modern food media of the Lucky Peach variety. Each episode is plump with jokes and creative camera shots, interesting storytelling, science and history and humor bundled up with recipes. At one point in "A Cake on Every Plate," Alton soundlessly frosts a cake on a turntable, a slow spiral of chocolate blanketing the top and sides, creating a satisfying GIF before GIFs existed.
What do we learn in these 22 minutes?
The single-most important step in cake making is letting the batter blend for at least four minutes.
Butter contains 20 percent water and steams the bottom of the cake if you grease a pan with it, stopping it from browning, so use shortening instead.
Flip your cooling racks upside down for perfect cooling.
A sunken birthday cake means bad luck in the coming year.
And much more. He teaches baking the way you want it to be taught, like you're in the kitchen with a baker who can identify and communicate all the little muscle memory actions. He dons a black aluminum suit and rotates to show how different pan materials produce different common cake issues, like sunken cakes or cakes with funky sticky tops. He gently throws in tips the new baker might not know, like pre-weighing the bowl before you weigh ingredients or putting mixer parts in the fridge when you want to make whipped cream.
He offers all of this advice with no condescension, just an air of "Oh, of course we both know this, I just thought it would be fun to say it out loud."
Comfort and intuition in the kitchen come from an understanding of the frameworks that underlie each dish. It's not just "add this measurement of these three ingredients in this order." How should the batter look? Why do you add an extra egg yolk? What does baking powder do? How do you diagnose a failed cake so you can change it next time? This knowledge hooks you into the flow of the kitchen. It transforms you into a student. It sparks a hungry mind that will be better equipped to fill your hungry stomach.
Take it from Alton Brown: There's magic and intrigue hidden in the basics. Dig into the complicated structures that create simple sweets. Bake a butter cake.
Kitchn supports our readers with carefully chosen product recommendations to improve life at home. You support us through our independently chosen links, many of which earn us a commission.