This Is Probably the Best April Fool's Prank of 2018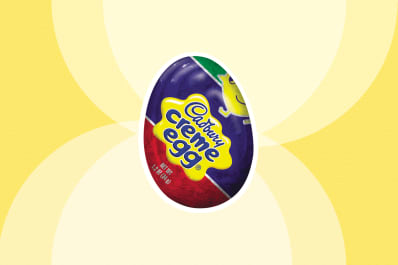 (Image credit: Cadbury)
When I was about 9 years old, I had what was simultaneously the best and the worst April Fool's Day. The night before, I emptied every old-fashioned oat from a Sam's Club-sized container of Quaker Oatmeal into my sister's shampoo bottle. I distinctly remember feeling like a criminal mastermind — a combination of Shredder and Dr. Claw — and counting the seconds until she took her morning shower.
Fast forward to April Fool's morning, when she squirted a gelatinous blob of floral-scented oatmeal onto her head, ran out of hot water trying to de-oat herself, and I was promptly grounded for wasting both bath products and breakfast foods.
I kind of think that everyone who gets prank-happy on April Fool's Day should be grounded — even if they're, like, 40 and the social media manager for whatever company that inevitably tries to do something clever on Sunday. (Okay, it was admittedly kinda cool when Google Maps turned into Ms. Pac-Man last year. It was just weird when KFC pretended that it was turning its chicken buckets into Alexa-style smart speakers).
Some of this year's pranks have already been launched: Reese's took over a ShopRite in New Jersey and replaced the eggs in some cartons with its own chocolate-peanut butter Reese's eggs (which is great, unless you didn't notice until you got home and started making a breakfast scramble). And eyeglass retailer Warby Parker has partnered with Arby's to release a limited-edition onion ring monocle. (Although the real joke has to be that people are paying $95 bucks for a pair of frames that look like raw meat).
Since Easter and April Fool's are on the same day this year, you'd better inspect everything that you find in your Easter basket — especially since devious individuals like this are out there. I both curse and applaud whoever figured out that grapes could be carefully wrapped in Cadbury mini-egg foil. As far as food-related pranks go, it's not the worst. (The ABSOLUTE WORST is obviously a tie between the unholy creature who replaces Oreo creme with toothpaste and the two-legged demon who fills donuts with mayonnaise).
So keep an eye out for disappointing snacks on Sunday — and be suspicious of anyone who really, really wants you to eat whatever they're offering you. Also, it's probably worth giving your shampoo a test-squeeze before you lather up. You know, just in case.