The One Thing You Need to Finally Organize All Those Baby Bottles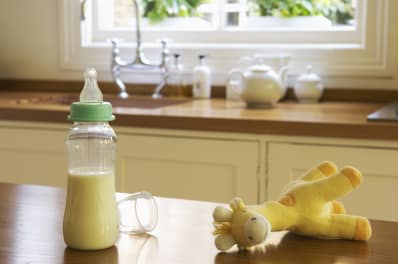 (Image credit: sirtravelalot/Shutterstock)
There is a mom out there who came up with an ingenious idea for storing all her baby's bottles. The idea is so smart that her Facebook post about it (meant just for her friends) quickly became a viral sensation.
I mean, of course it did — because storing all that baby gear in an already-full kitchen is tricky. And bottles are especially hard because they're lightweight and tip over at the drop of a hat, causing a total domino effect.
Ready to have your mind blown? Keep reading to see this mom's brilliant solution.
Texas mom Brooke McDaniel came up with the idea to store all those baby bottles in a shower caddy! It hangs right on the wall inside of the pantry, and the high sides keep those bottles from falling over when she pulls one out to use. (Brooke had two babies back-to-back, which explains why she has to store different-sized bottles at the same time.) And the little hooks on the bottom are perfect for pacifiers and teethers.
Now, I agree that this is a great idea, and one that will grow with the kids as they graduate to sippy cups and straw cups (and one to consider for grown-up gear — maybe a water bottle collection?). But my one question is, why so many bottles?
Most infants drink up to eight bottles a day, and for older babies it's more like four (pediatricians generally recommend you switch kids off the bottle by 18 months). These things don't really go in the dishwasher, so you're hand-washing everything. Do you really need more than a day's worth of bottles, plus one or two spares?
For the record, this woman can have as many bottles as she wants — I am not into shaming any moms for doing whatever it takes to keep the chaos at bay. But if you are looking for a solution for something you have a lot of, I strongly encourage you to pare down first, before finding a smart new way to contain it.
Perhaps it's because my husband and I have been in a tiny apartment since our kids were born, but I've always had to be super-conscious of every item I brought into our space, including baby bottles. It's tempting to stock up, but at a certain point you go from being ultra-prepared to adding clutter. For my first child, I probably had five of those infant bottles. By my second, I cut back to two. And there was basically no reason to store them, because they were either in use or on the drying rack 90 percent of the time.
Then again, my kids were both big pacifier users, so I stocked up on those doodads every chance I got, because I never knew what exact make, model, and color my kids would prefer on a given day. So I look at her pacifier collection and think, where are the rest?
I guess we all have our clutter weaknesses. Maybe a shower caddy can solve them all? So smart, Brooke!
Kitchn supports our readers with carefully chosen product recommendations to improve life at home. You support us through our independently chosen links, many of which earn us a commission.