This $2 Lunch Idea Is Perfect for the Office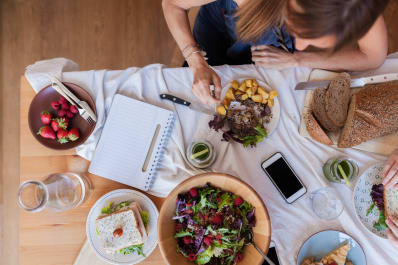 (Image credit: good vibrations images/stocksy)
In my quest to stick to a food budget, I've found that lunch is my downfall. I have some inexpensive breakfast ideas that get me out of bed in the morning (homemade muffins! Eggs!) and dinner is a place I'm now in the groove with for meal planning, but for some reason it's hard for me to break the habit of going out to lunch when I'm at the office. Those fancy New York lunch salads add up, and I know I need to make a change if I want to really stick to a budget.
That's why I was so excited today when our friends at Cup of Jo posted an ingenious idea for a $2 lunch. If that wasn't already exciting enough, it just so happens that the base of the lunch comes from Trader Joe's.
Stella Blackmon of Cup of Jo recommended this Southwestern Chopped Salad from Trader Joe's for lunch. It only costs $2.99 for a 13.6-ounce bag. The bagged salad includes chopped cabbage and romaine lettuce, carrots, radishes, green onion, cilantro, pumpkin seeds, and cotija cheese. The salad also comes with a spicy avocado dressing.
Blackmon explains that she splits the salad into two portions and loads it up with black beans or some avocado, so that one lunch will cost about $2.
Trader Joe's isn't the only one to have salad kits, of course, so if you don't have the trendy grocery store in your area, you can still pull off this lunch trick. As Blackmon said, bagged salad lunch from the grocery store might not seem like the most luxurious of meals, but with the help of some toppings (maybe these tiny avocados?) it'll definitely make your coworkers jealous.
But don't take our word for it — click through and read the post; the real treasure here comes in the over 200 comments with more smart, cheap, and tasty lunch ideas from Cup of Jo's readers.
What's your favorite budget lunch recipe? Let us know in the comments!