The Wisdom of the Thinning Season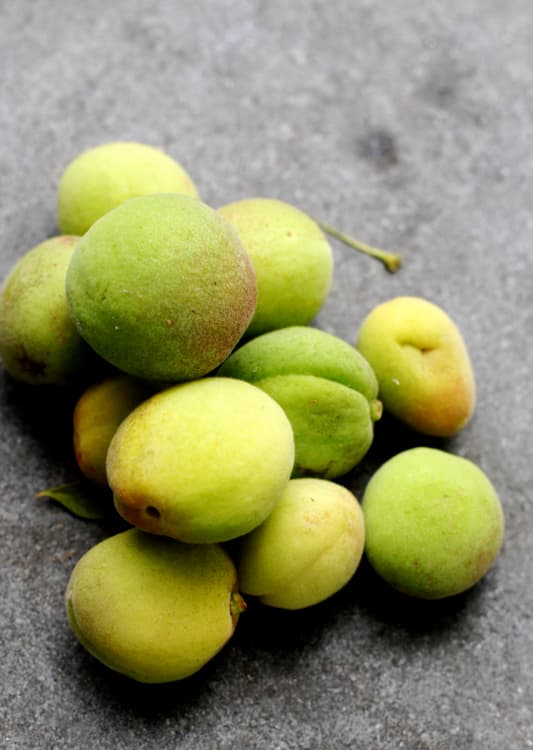 Early culls from my backyard apricot tree.
Here on the west coast, it's the thinning season, that time in the growing cycle when farmers make their way through their fields and orchards, culling some of the young green fruit from their trees. This is done so that the branches aren't overburdened, which can cause them to break, and helps the remaining fruit to grow fat and juicy. Gardeners who grow from seed know this practice as well when they cull their rows of tiny seedlings, allowing the remaining plants more space and nutrients to grow and thrive.
Although some people can approach this task with a kind of ruthlessness, I find it a bit of a challenge. How do you know how much to take, and which ones, and when?

Faced with a cluster of young, tender carrot seedlings, I feel the weight of responsibility, the God-like position of picking and choosing. I know and understand the necessity of grooming and making room, but my nature is such that I want all the carrots to ripen. Who am I to say which one lives on to its full potential and which one must perish in its tender infancy? Clearly, I would make a lousy farmer.

Still, while I may be a little sentimental about baby carrots, I haven't made it well into my adulthood without learning a thing or two about thinning. Life thinning, that is, those times when we have to make decisions that promote and bring forth one thing, and perhaps leave others behind. Picking and choosing may be fraught but pick and choose we must, at least to some degree. It strikes me as a somewhat adult skill, this ability to make wise choices about when and where and what, about how much and how often and with whom.
The kitchen is an excellent teacher in the art of choosing wisely, in knowing when to edit and when to just let it be. When we cook, we are constantly making adjustments for temperature, ripeness, thickness of pan, quality and quantity. We develop a certain kind of intuition, a way of knowing that is not prescriptive, for when to add a pinch of this, or a bit of that. I appreciate the kitchen for how it helps me to develop the sense for when there is too much, and when there is not enough.
Of course, it's also possible to thin and groom our lives to such a degree that all the magic and wildness is lost. Overly controlling our situation, like overly controlling our time in the kitchen, may produce predictable results but what fun is there in that? Perhaps the greater skill is to have the fortitude and grace to cope with whatever comes our way, without editing. Not easy, it's true, but until we can reach that place, do your thinning wisely: Pay attention, listen deep, and then make your choices.

This post was inspired by
David Mas Masumoto
and his writings on thinning peaches in his Fresno, Californis orchards.
(Image: Dana Velden)