The Versatility of Silog: How Making Breakfast Is a Hallmark of the Filipino American Experience
We
independently
select these products—if you buy from one of our links, we may earn a commission. All prices were accurate at the time of publishing.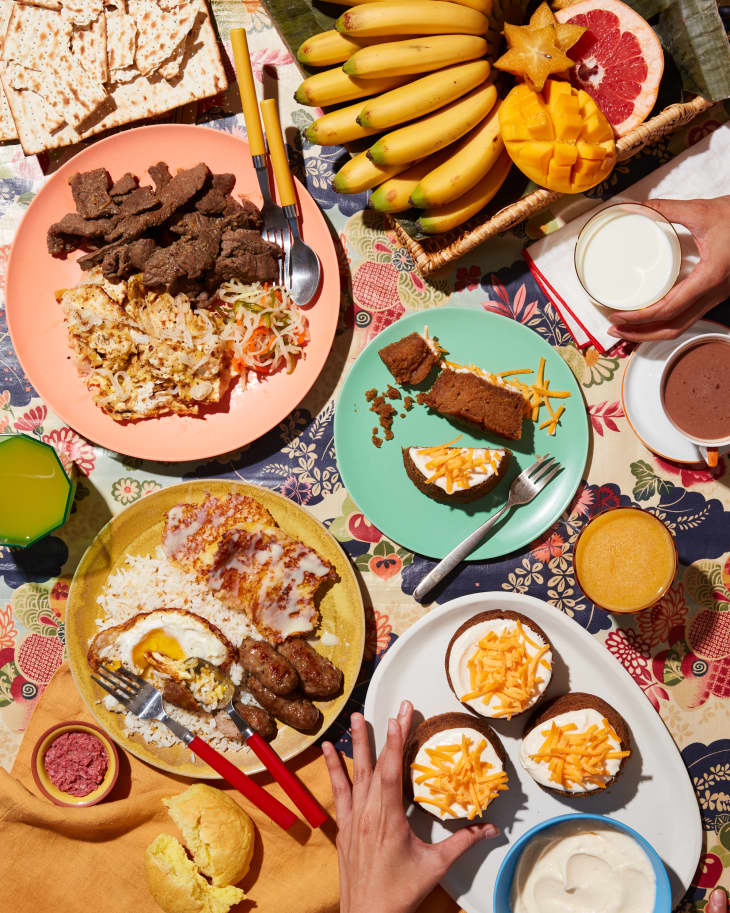 No matter how much I wanted to sleep in as a kid, my mom was adamant that I never skip breakfast. "Breakfast is the most important meal of the day!" she'd say like clockwork as we were getting ready for school. As I hurried to put on jeans, already dreading the feeling of pulling cold denim on my skin, I knew my mom had already been up for an hour to cook for the family. I could hear her opening a corned beef can with the tiny metal key that comes with it. She would be preparing mounds of jasmine rice to be tossed in hot oil and you could smell the grease after she fried eggs just the way I liked them: crispy, brown lacy edges, and runny yolks. 
When I was growing up, I lived with my parents and two sisters in a three-bedroom house in San Jose along with seven other members of my extended family. Breakfast in this multigenerational Filipino household was joyful. Groggy and bleary-eyed, I'd stumble into the kitchen and come alive seeing the plates of corned beef, sweet longanisa, and SPAM that would appear like magic on the table. 
As amazing as those plates sound, though, the best Filipino breakfast is one shared with people that I love and care about. That community is the most important element. And so, for this package, I've tapped three contributors: Molly Olis Krost, Kristy Drutman, and Gretchen Carvajal, who are all Filipino American creatives that I admire. Their recipes show the adaptability inherent in Filipino food, and tell the story that making breakfast for ourselves and our friends and family is a hallmark of the Filipino American experience, one that is deeply rooted in community care. 
Ensaymada: So Many Ways to Make the Pastry
As a breakfast staple, ensaymada — fluffy brioche covered in butter, sugar, and cheese — has evolved over time to include more unique flavors and ingredients. At my childhood breakfast table, it came fresh from our local Goldilocks Bakeshop. Nowadays you may come across ensaymada filled with ube halaya (purple yam jam) or Nutella. 
For my friend Kristy, finding a way to enjoy an ensaymada that is gluten-free and vegan resulted in this innovative Enslaymada (a recipe so good it slays) that she shares with her family. For binding and leavening, she utilizes vegan egg replacer and baking powder in lieu of traditional eggs and yeast. These moist, sweet cakes evoke the flavors of a classic ensaymada, especially with the topping. The rich vegan cream cheese buttercream accompanied with vegan cheddar cheese are a perfect balance of sweet and salty. 
Even though fiesta food for birthdays and special occasions was also abundant, it was the everyday-ness of breakfast that was a comfort that I could look forward to each morning. Whether it was my mom or Auntie Rina cooking breakfast for us, I could count on sharing my favorite meats, garlic fried rice, and eggs — the components of silog — together as a family. While silogs were something we could have on any given morning, I longed for leisurely Saturdays when I could drink in the sound of my family members gossiping and laughing for hours without having to worry about school or work cutting our meals short. 
Pandesal Meets French Toast
During some weekdays, when I didn't have time to eat a big breakfast, I loved the warm pandesal my mom would often thrust into my hand as I hurried to catch the bus. This yeasted roll was a staple from Valerio's City Bakery — our go-to Filipino spot in town. 
When I had a couple extra minutes before I had to leave for class, my dad would cut the pandesal in half, throw the slices in the toaster, butter them just the way I liked it: malangi, the Kapampangan word for "dry." I wanted the butter to be completely melted before he added a sprinkle of sugar on top of the slices. When I'd take a bite, the sugar would hit my tongue first and then salty butter drenched into the topmost layer of bread for the finish. Other times, I'd dip a whole roll in my hot chocolate and eat it in a succession of soggy bites while my dad would do the same with his pandesal and coffee. We'd sit together like mirror images of each other, with dribbling bits of bread soaked in our beverages of choice. I made it a personal challenge to not lose the last bite of bread in the depths of my mug. 
Pandesal is made for versatile breakfasts. While my family and I had our own ways of eating the bread in the morning, there are so many different takes on a pandesal breakfast. In her family, my friend Gretchen has a wonderful silog plate recipe that includes a sweet Pandesal French Toast passed down from her mom. Each slice of custardy bread, browned to perfection, is drizzled with sweetened condensed milk. I love that it doesn't take long for the pandesal to go from the frying pan to the table. Not only is the Carvajal plate piled high with the special French toast, but they also have incredibly juicy pork sausage patties or longanisa to go along with it. 
"Kielbasilog" and the Generous Flexibility of Filipino Breakfast 
Since moving to Brooklyn in 2017, long gone are the days of breaking bread with my family every morning. At my loneliest, I yearned for a silog that could make me feel like my parents' kitchen table wasn't actually across the country. Maybe like Patrick Star, I could take the memories of living a stone's throw away from the people I love in California — a place I called home for 22 years of my life — and drop it somewhere right in the heart of New York with just a mixture of rice and egg.

When Jollibee opened in Hell's Kitchen in 2018, I couldn't wait for a chance to finally buy silogs because I didn't really have any Filipino restaurants in my vicinity that served breakfast fare. The fact that there would be a Jollibee within walking distance of my office in Manhattan was a treat! When my parents didn't have the energy to cook after Sunday morning mass, they would take us to our local Jollibee to get silogs in the morning and Filipino spaghetti for dinner. I strolled right in one morning thinking I could order breakfast before heading to work. 
I asked the cashier if I could get the tapsilog — tapa (marinated beef), sinangag (garlic fried rice) and itlog (sunny-side-up egg). Turns out, they have a limited menu at this location and only sell fried chicken and spaghetti, even at 9 a.m. Although I'd normally never say no to Chickenjoy and the spaghetti loaded with banana ketchup and hot dogs, it was too early for this combo. Dejected, I retreated back to my office on an empty stomach.

It was then that I realized the best way to satisfy my silog cravings would be to cook a Filipino breakfast at home. Before that fateful morning, I'm ashamed to admit that I was too lazy to even try to make anything Filipino. A part of me had a defeatist attitude that anything I made would never live up to my family's cooking. 
Because not even Jollibee could help me, I mustered the courage to make tocino from scratch using a recipe I found online. After letting the pork shoulder cure in a vat of soy sauce, brown sugar, and pineapple juice, I braised the marinated meat and the cooked tocino — dripping with fat — was so tender. It might not have tasted exactly the same as the frozen, store-bought cured pork my parents bought for our family breakfasts, but it was still delicious.

Even though I had the tocino, sinangag, fried egg, and diced tomatoes tossed with spiced coconut vinegar, the ritual of breakfast didn't feel complete without anyone to share it with. In my heart, cooking a silog could only feel right if I had more than one mouth to feed. I finally understood that a big part of why I loved a Filipino breakfast was that I never felt alone while having it. 
I couldn't wait to feed my boyfriend, Jason, this tocilog I was so proud of and to take pictures to send to my mom and dad. He'd never had it before but devoured every bite, sharing that he enjoyed the way the acidity of the vinegar juxtaposed the saltiness of the tocino. I beamed with joy.   
When I visited California in June 2021 for the first time since the pandemic started, I was able to bring Jason to meet my parents. They didn't know much about him besides the fact that he's Polish American — he's actually Lithuanian but they accidentally confused the two — and raised Catholic (music to my mom's ears!), so I was anxious to experience what it would be like with him also staying at our house. 
When we ambled down the stairs for breakfast, my mom emerged from the dirty kitchen (the outdoor kitchen where she does all the frying) holding the familiar elements of silog, except there was something new: kielbasa! We enjoyed our "Polipino" (Polish Filipino) silog, rice and all, together as a family that day. 
A Filipino-Jewish Breakfast
In the Filipino diaspora, there is so much cultural crossover in our food. My Ate Molly is also no stranger to these fusion meals. She has a beef Tapa Matzo Brei with Atchara recipe that beautifully encapsulates her Filipino-Jewish heritage. Tapa, soy-marinated beef that is thinly sliced, is the ultimate savory Filipino breakfast meat. It's delightful to eat a bite of Molly's tapa with a Jewish Passover favorite: matzo brei. The atchara — composed of pickled papaya, carrot, and green bell pepper — lends a sour note that not only cleanses the palate, but also makes you want to eat more. 
Kielbasilog and the countless iterations of the silog formula have taught me that the best part about a Filipino breakfast is that there are no rules. You can mix it up with whatever you have on hand. If you have extra rice in the fridge, you can fry that with oil and garlic. When someone brings ensaymada as an offering, you put them all out for people to enjoy with their coffee. Breakfast can be as simple or elaborate as you'd like. Whether that means munching on pandesal or a ripe mango with a smattering of leftovers from dinner the night before, silog isn't so much about what you make, but who you eat it with. 
When I see my family — whether it's my chosen one that I've made in New York or the people who I grew up with — around the table for breakfast, I feel complete. I see the meal as a promise of a new beginning for the day, and a special place where freestyling is the tradition we pass down from generation to generation. 
It turns out my mom was right. Breakfast? I don't know a more important meal. 
Abi on Filipinx and Filipino American​​
Personally, I choose to identify as Filipino American since it was always how I referred to myself growing up. I learned about Filipinx when I was in college and I whole-heartedly support the usage of the term for people who prefer to use Filipinx for themselves. By no means do I want to prescribe one way of labeling identity — which is the conflict I feel the diaspora and mainland discourse stems from. Filipino American is just what I was raised with and what I typically call myself now.