Here's How I Get My Kids to Drink More Water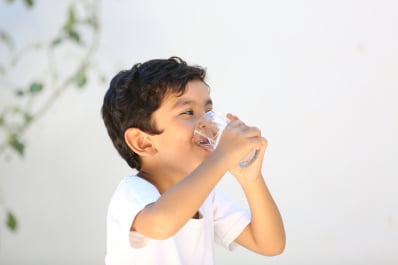 (Image credit: hiphotos35/Getty Images)
"Drink more water" is a goal that many of us set, whether we're looking for better health, clearer skin, or more restful sleep. Now imagine chasing a 3-year-old around the house with a water bottle, begging them to do just that, and you can imagine how "drink more water" can sound more like a wish than an attainable goal.
Earlier this year I discovered a little trick for getting my kids, 3 and 6, to drink more water without fussing, begging, or yelling. It's not a fancy new product and you probably have everything you need to make it happen in your kitchen right now.
A Weekly Batch of Lemonade Gets My Kids to Drink More Water
If you're reading this thinking, "Honey, they are drinking more lemonade not more water," hear me out: We make the lemonade at home with just lemons and maple syrup (or honey) once a week and use as much water to lemon base as possible to start. The kids get one small glass of lemonade each that day.
Throughout the week we offer them a splash of lemonade in their water cups, and it keeps them sipping all day long. We've tried other flavored waters, but nothing seems to motivate them to drink more water than our weekly batch of lemonade.
You don't have to have a home full of lemon-lovers to take advantage of this idea. Any kind of infused water can be used to get your kids drinking more water. Find a favorite that works for your family and make a ritual out of making it together and you'll be surprised by how much more water will be consumed without your nagging.
Other fresh water ideas: 10 Simple Infused Waters That Will Help You Hydrate