This Self-Taught Teen Makes Latte Art That's Way Too Cute to Drink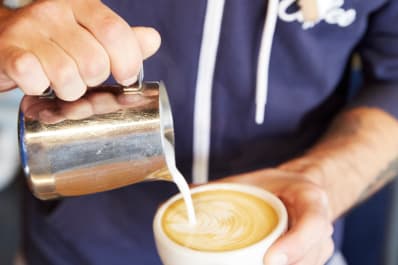 (Image credit: Tara Donne)
You might think a cute heart or a pretty fern in the foam of a latte is a sign of elite barista skills, but then you probably haven't seen Daphne Tans' 3-D latte creations. The 17-year-old is taking latte art to new heights with adorable foam sculptures that are technically astonishing and way too cute to drink.
Tan goes by Periperipeng on Instagram, where she has a captive audience of more than 17,000 followers, all eager to watch her sculpt milk foam into cats, Pokemon, elephants, octopuses, and even cockroaches. She uses a Nespresso milk frother to make the foam, and natural food dye and carob powder to paint the faces.
She can sculpt a simple cat in about four-and-a-half minutes, and more complicated designs can take 10 to 20 minutes. The coffee might get cold in that time, but lukewarm coffee is a small price to pay for such cute latte art.
This adorable corgi butt even dances when the cup shakes.
Tan's success is especially surprising because she only started experimenting with latte art about a year ago. The whole thing started with a school-sponsored workshop on gourmet coffee appreciation. While Tan was learning to build a good cup of coffee, she started making little 3-D sculptures with the foamed milk.
After a little more experimentation, the internet started to notice her skills. Now she has sponsorships and was even invited to the Singapore Coffee Festival.
Tan is most famous for cuddly animals rising out of the cup, but recently she's been experimenting with a more lifelike style. She's basically painting landscapes and portraits directly onto the surface of her lattes.
"I can't even do this on paper," one amazed fan wrote.
Tan is only 17, and she has to remind people that her latte art is just a hobby; a lot of her fans seem to think she's running a cafe they can visit. She might have a coffee shop of her own someday, but with latte sculptures this good, maybe an art gallery is more likely.