The Secret Lives of Baked Goods by Jessie Oleson Moore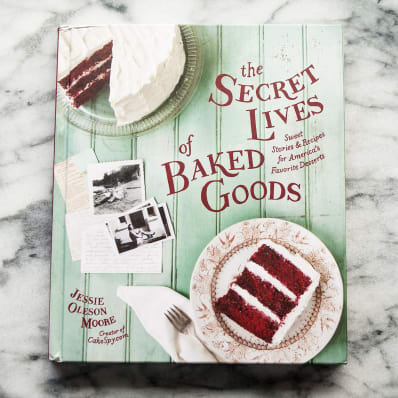 What do birthday cake, chocolate chip cookies, and animal crackers all have in common — besides, of course, all being desserts that we grew up loving? Answer: they each have a long and venerable history that started way before our own memories of those first sweet bites. As Jesse Oleson Moore, creator of Cake Spy and self-proclaimed dessert detective, puts it in her new book The Secret Lives of Baked Goods, "...recipes are not necessarily invented — they evolve."
Quick Facts
• Who wrote it: Jessie Oleson Moore
• Who published it: Sasquatch Books
• Number of recipes: About 40
• Recipes for right now: Carrot Cake, Pineapple Upside-Down Cake, Puffed Rice Treats, Lemon Meringue Pie, Cherries Jubilee, Princess Torte, Girl Scout Cookies, Katharine Hepburn Brownies
• Other highlights: This is the kind of book I want curl up on the couch with and read all afternoon. The histories of these familiar and much-loved desserts are fascinating. Did you know that german chocolate cake isn't German at all, but actually named after Samuel German — the same guy who founded Baker's German's Sweet Chocolate, which we still use today? Or that animal crackers came about thanks to the Industrial Revolution (new machines that can churn out cookies by the box) and the spreading popularity of P.T. Barnum's circus act? I just love this stuff!
The recipes themselves are classically classic. Jessie Oleson Moore has done her research and tested each of these recipes to perfection. They're not the "original" recipes (because, as Moore would be quick to point out, what is really original anyways?) — rather, these recipes are the best version of what they've evolved to be. The kind of chocolate chip cookies that we crave after a long day. The kind of carrot cake we want to serve on Mother's Day. The kind of apple pie that tastes like home.
• Who would enjoy this book? Bakers (and dessert eaters) who love classic treats, anyone who likes a good story with their recipes
Apartment Therapy Media makes every effort to test and review products fairly and transparently. The views expressed in this review are the personal views of the reviewer and this particular product review was not sponsored or paid for in any way by the manufacturer or an agent working on their behalf. However, the manufacturer did give us the product for testing and review purposes.
(Images: Emma Christensen)
Kitchn supports our readers with carefully chosen product recommendations to improve life at home. You support us through our independently chosen links, many of which earn us a commission.