The Seasonal Color Wheel: A Guide to Natural Dyes Made From Seasonal Foods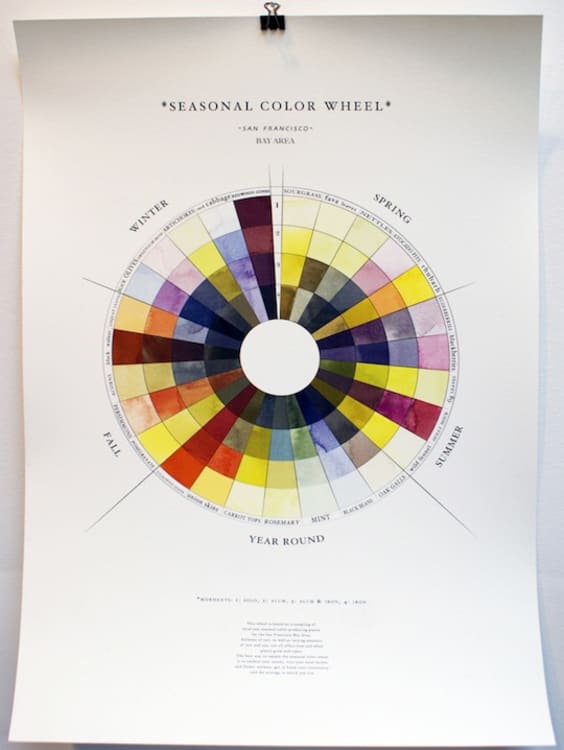 We're all about sourcing, prepping, cooking and eating good food here at The Kitchn, yet there's one area we seldom think about: using food plants as dye. But now that I have the beautiful poster pictured above hanging in my kitchen, I'm inspired to take another look at my food scraps and consider what color they might produce on a t-shirt, or a napkin. Take avocado pits, for instance. Depending on the mordants (used to help fix the color) an avocado pit will produce anything from a pale mauve to a deep grey.

The Seasonal Color Wheel was made by Sasha Duerr, the founder and director of the Permacouture Institute, an educational non-profit organization that works with hands-on grassroots projects to support sustainability in fashion and textiles. Besides researching and documenting plant-based dyes and natural and recycled fibers, Permacouture Institute hosts seasonal Dinner to Dye For events where guests both dine on and make dyes from local, seasonal foods. Inspired by the Slow Food movement, they also work to promote Slow Fashion to bring awareness to the ways fashion can be sustainable in the areas of energy and water use, biodegradability, toxicity, and reflect the seasonality and place where it is made.
The Seasonal Color Wheel was developed as an educational tool for Sasha's workshops on natural dyeing. While the seasonality reflects the San Francisco Bay Area where Sasha lives, the text on the front suggests that it can inspire you wherever you live: 'the best way to sample the seasonal color wheel is to awaken your senses, visit your local farmer and flower markets, get to know the community and the ecology in which you live.'
Sasha is an adjunct professor at the California College of the Arts textiles department, as well as the author of The Handbook of Natural Plant Dyes: Personalize Your Craft with Organic Colors from Acorns, Blackberries, Coffee, and Other Everyday Ingredients. She is also an artist and designer who works with organic dyes, alternative fibers, and the creative reuse of materials.
(Images: Interface Gallery and Dana Velden)