The Planning Step Most Meal Preppers Forget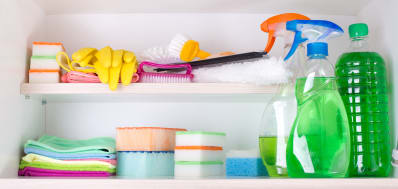 (Image credit: Budimir Jevtic/Shutterstock)
Recently, a friend of mine and her family stayed in our apartment for the weekend while we were out of town. Before they arrived, my husband and I dutifully changed the sheets, swapped out the towels, and stocked up on coffee. Our guests had a great time, sampling all our local parks, favorite food stores, and local museums. When we got home, I was happy to see that they'd put the house back in order, but I discovered three new packs of toilet paper in the linen closet. I'd forgotten to leave them with enough toilet paper!
No biggie, but I felt bad. And it made me wonder — because I'm currently out of dishwasher detergent and often running out for last-minute Swifter refills — why didn't I have a stockpile of extra stuff? Isn't that what grown-ups do?
I'm not the only one failing in this sense — Amazon Prime Now exists for the sole purpose of helping people restock in a pinch. So I spoke to organizing pro Lorie Marrero of The Clutter Diet to get her read on this. We all think about meal planning — should we be thinking about household-goods planning, too? After all, if we're gonna go through the lengths to plan a sheet pan dinner for Thursday, we should probably be prepared to line said sheet pan with aluminum foil, right?
Why — and How — to Household-Goods Plan
"Yes, you need to have spare stuff! Having extra non-perishable items on hand is really smart, efficient, and useful," Marrero says. "You just have to be careful to not take it too far and crowd out more important items." As in, don't stock your shelves with rarely used paper plates if you need that space for dish soap. Her list of "spare" must-haves include cleaning supplies, anything that's a refill or concentrate, canned goods, paper goods, and batteries — basically anything you might need in a pinch that's not perishable.
Marrero even has rules of what counts as a spare — and how to stock it.
Marrero's Seven Rules of Spare
Keep spares for things that are consumable but not perishable (things you use up frequently but won't go bad quickly).
Spare stuff has to actually be used eventually by you and your family — it's not there just because it was a bargain.
Spare stuff has to fit in your space. If you live in a tiny apartment you probably will just need to shop more often.
Keeping spares cannot crowd out prime usable space better used for more important, more frequently needed items. Don't fill your pantry with a case of wine for a "someday" party when you really need it for everyday cereal and soup.
When you use your spare, mark it down on your shopping list to buy a new spare — this way you'll never run out.
Buying in larger containers can sometimes substitute for buying multiples as spares. Investigate buying in bulk warehouse stores for larger-quantity containers of cleaning supplies, for example.
Maintain spares if they are mission-critical. If spares are extremely important for safety or crucial operations (like tires or backup hard drives), add maintenance tasks into your calendar to check on them and make sure they are at the ready.
Stocking Up When You Have Limited Space
Now to speak to her third rule, specifically: When you live in a small space, buying in bulk or having a ton of extra stuff might not be possible. In that case, I invite you to do a little research in your home to get a rough idea how often you'll need to buy stuff. Here are three ways to plan.
Look at the packaging. Some things — like dishwasher detergent—will tell you how many loads you can expect to get out of a box. If you keep track for a few weeks, you'll discover how many cycles you run (seven? Four? Just one?) on average. That's fairly easy to multiply out over the course of a year or the month and you can plan ahead. You can even put reminders in your phone based on this rough calendar.
Check your records. If you usually buy things online, scroll through your Amazon or FreshDirect history — notice a pattern there, like maybe you buy paper towels once a month?
Date your goods. You do it for leftovers and spices — why not for dry goods? Date the item with a marker when you buy it, and note the date when you use it up (one month later? Six?). When you replenish the stock, put a reminder in your calendar to reorder.
Another thing to try: Our Best Tips for Saving Money Through Amazon's Subscribe & Save
How do you make sure you never run out of trash bags, dish soap, and all those other important-but-often-overlooked kitchen supplies?
Kitchn supports our readers with carefully chosen product recommendations to improve life at home. You support us through our independently chosen links, many of which earn us a commission.