The Pioneeer Woman Is Giving Free Tours of Her Lodge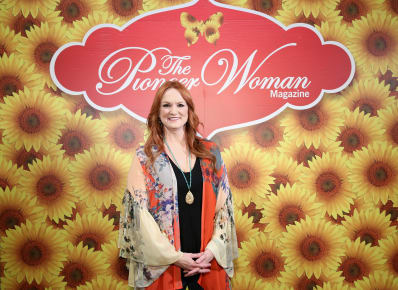 (Image credit: Monica Schipper/Getty Images)
There are many places I dream of visiting — the Taj Mahal, Stonehenge, the Great Pyramid of Giza, Iceland, and of course the Pioneer Woman's ranch in Oklahoma. The good news is one of those doesn't require a passport, and if I left in my car from my hometown in rural Wisconsin in the morning, I could still make this weekend's tours. That's right — TOURS! Big letters, big-time fun, and a chance to stand where the stars do. And by stars, I of course mean our favorite sassy red-headed chef!
Ree Drummond announced on her Instagram this week that she's opening up the Lodge for free tours. You can visit the ranch in Oklahoma anytime between December 26 and 30 and between January 2 and 6. The Lodge will be closed for New Year's Eve and Day. You do need a ticket to get a tour, which you can find at The Merc the day of your visit. Tickets are free, and there is no limit to how many people can visit on any given day. Tours are available from 9 a.m. to 4 p.m. on the above dates. In the information provided about the tours, it's noted that you should leave your pets at home.
Did you hear that sound? That's the sound of the collective food universe packing their bags and hopping in the car or boarding a plane to head to Oklahoma. Surely it has to be a better option than the super-chilly and snowy regions across the country. The idea of stopping in for some chicken fried steak at the Pioneer Woman Mercantile, seeing the space, and taking selfie after selfie is just too alluring.
Are you planning a road trip to the Lodge?