Gossip Girl Is Actually a Show About Food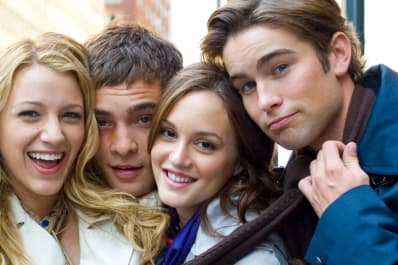 (Image credit: The CW)
We all know that Gossip Girl is the show that launched a million headbands, introduced us to ageless hair icon Blake Lively, and made us all wish we lived in a world narrated by Kristen Bell. But if the first few episodes of a series reveal its identity, Gossip Girl is actually about food.
That's right, Upper East Siders — this year, for the show's 10th birthday, I think it's important that we finally acknowledge the truth.
Consider episode 2, "The Wild Brunch," an entire episode devoted to the majesty of brunch. Here's what happens in the first 15 minutes.
The teen-parent drama revolves around whether or not Serena will go to brunch.
The flirting is all food-related, with Dan showing up at Serena's door and delivering suave lines like, "I've just been wondering — are you hungry?"
Every scandal and argument unfolds against the backdrop of white tablecloths, piles of strawberries, and silver platters.
"Breakfast is brunch," Gossip Girl purrs, "and it comes with Champagne, a dress code, and 100 of our closest friends … and enemies."
There are several minutes of pre-brunch food prep, with shots of rapidly chopped squash, the vivid flesh of pistachios smashed against a cutting board, and eggs cracked over a pan.
As Blair dresses, her meticulously dressed minions snack on layers of crisp pizzelles and fresh fruit surrounded by whipped cream.
Chuck pours ominous tinctures, powdered greens, and fizzy water into a blender for a makeshift hangover cure.
Serena shows up to mend her broken best friendship with cappuccinos, fresh croissants, and a copy of Breakfast at Tiffany's.
Jenny and Dan's dad hollers, "I make really good waffles!" as his kids head off to their food-filled adventures.
Before you know it, we land in a ballroom full of silver pitchers and strawberries, pastel outfits and models painted like statues. The camera lingers on tiered cake stands piled with fresh fruit and tiny cakes, bars heavy with mimosas and martinis, Beluga caviar, and glistening carved hams.
Do yourself a favor and watch "The Wild Brunch." Skip inviting your closest enemies, don't let Blair's incredible pajama wardrobe put your laid-back PJs to shame, and make sure to pair your viewing party with a serious brunch spread, or you're bound to spend the rest of the day fantasizing about pastries and caviar.
A Brunch Menu That Would Make Blair Waldorf Proud