The Smart Omelet Tip You Might Have Missed in Queer Eye Season 2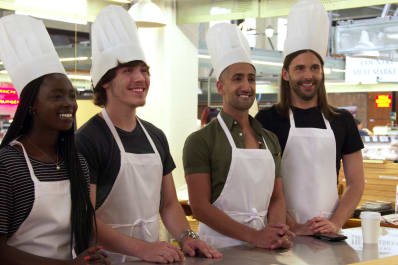 (Image credit: Courtesy of Netflix)
There is so much to love in the second season of Netflix's Queer Eye. When it came out two weeks ago I basically spent the entire weekend on my couch binge-watching the whole thing. It's one of the those shows that really is as joyful, fun, and magnetic as it seems. And despite what people say, there really are a ton of smart cooking tips sprinkled throughout the series.
My favorite this season came from Queer Eye's resident food expert, Antoni Porowski, who uses a cheap, readily available tool to make better omelets in episode seven.
Chopsticks Make for Better Omelets
In episode seven, Bedazzled, the Fab Five help an 18-year-old homeschooled musician get ready for college and his first solo apartment. This kid has zero cooking knowledge as his adoptive "godmother" cooks every morsel for him. He's also lacking a bit in the friend department, too, so Antoni sets up a pseudo-cooking class with a few other college-bound kids (and Jonathan and Tan) to teach Sean how to make a basic omelet.
Instead of a spatula, Antoni uses a pair of chopsticks to coax the omelet to perfection. First, after adding the eggs to the preheated pan, he twirls the chopsticks a bit in the center of the omelet mixture to get big, ruffly curds. He later uses the chopsticks to gently fold the omelet closed and nudge it out of the pan and onto the plate.
Chopsticks are a brilliant, inexpensive alternative to the chef-y tweezers you often see in restaurant kitchens — which makes them great for everything from flipping omelets and crepes to perfectly placing sprinkles on cakes too.
Have you binge-watched Queer Eye Season 2 yet? Do you have a favorite use for chopsticks in the kitchen?