The Most Beautiful Ways to Eat Summer Produce Right Now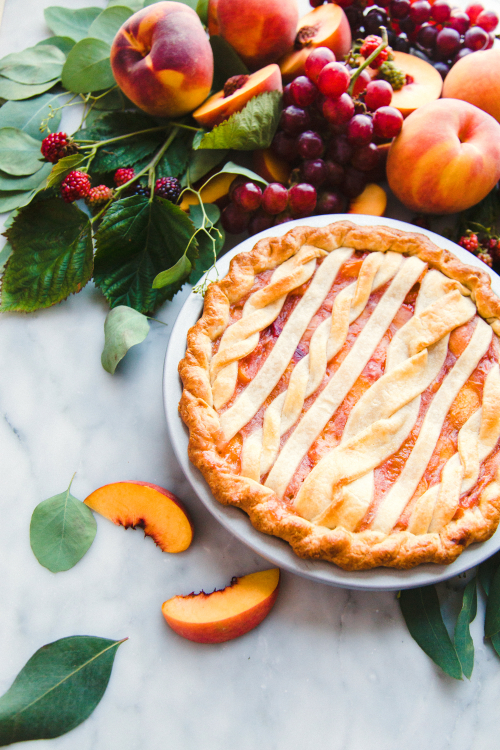 (Image credit: Bridget Badore)
It's late summer, which means our all-time food faves are at their peak. Peaches, tomatoes, sweet corn, and zucchini are at the height of their season, and there are so many delicious (and pretty) things you can do with them. But it's a fleeting moment, this peak produce season, so we decided to celebrate and savor it.
We invited some of our favorite food Instagrammers to come in for master classes with two women who know how to get creative with seasonal produce —Kelli Foster, Buddha bowl guru and Kitchn editor, and pie maven Judy Kim — and sourced all the fresh produce from Walmart. While we wouldn't always expect it from a big-box store, Walmart guarantees fresh produce that you are 100% satisfied with or your money back. Walmart's fresh produce is restocked daily and sourced from local growers whenever possible.
Let's see what happens when you give some of the food world's top Instagrammers a colorful palette of produce to work with.
(Image credit: Bridget Badore)
Master Class 1: Buddha Bowls
Our first expert was Kelli Foster, our very own Associate Food Editor and author of Buddha Bowls, which has 100 recipes for her signature one-bowl meals packed with fresh, nutritious ingredients.
After a quick introduction on the basics — you choose a base, protein, veggies, and sauces — our guests went to town with a rainbow of in-season produce to create Buddha bowls of their own.
(Image credit: Bridget Badore)
Master Class 2: Sweet and Savory Pies
Food stylist Judy Kim's wildly gorgeous Instagram account is a smorgasbord of delicious images. If you follow her (and you should!), you'll know her passion is for pies. And, of course, peak produce season is also peak pie season.
Judy shared some of her favorite sweet (perfect peach) and savory (yum, tomato tart) pie topping techniques before letting our Instagrammers loose on their own.
(Image credit: Bridget Badore)
#SavorSummer
If you're starting with fresh, local produce this time of year, it's pretty impossible to make anything that's not Instagram-worthy (and tasty). Moral of the story: don't miss that glorious, always-too-brief, window of time when summer produce is at its peak.
Want to know what else is in season right now? It's all here on our Guide to What's Fresh, made in partnership with Walmart!