The Practical Yet Magical Effects of Baking Crackers with My Kids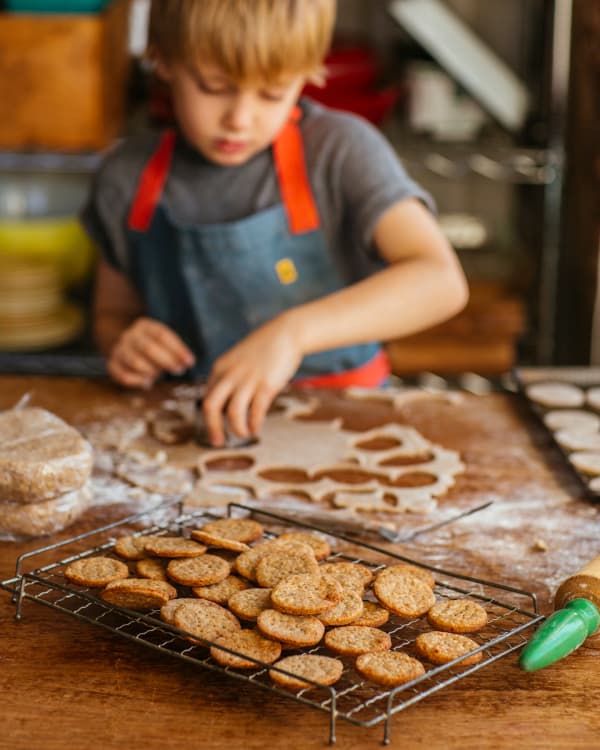 (Image credit: Tim and Angela Chin)
Around my family table, my husband and I relish deep bowls of borscht and hearty chowder; the kids put up with winter soups for the sake of the homemade crackers in the center of the table. This accompaniment to our soup comes in all shapes and sizes, with crispy, cheesy edges and fork marks in the center — just like the crackers of my childhood.
Playing with dough of any kind has always held my children's attention and if they can eat the end result, then it's a sure thing they will stick around to help. From as early as age 3, 4, or 5 (each child develops at a different pace) I taught them to roll out the dough and cut shapes out of it. We can't always be baking cookies, and so a rolled cracker has become our alternative to gingerbread.
I tend to prep the dough in advance, when the kids are at school, as it benefits from a short rest in the refrigerator. Making the dough is not complicated; everything gets tossed in the food processor and the dough comes together quickly, much like making pie crust. In fact, a pie crust is exactly what you are making, flavoring it with herbs, cheeses, cracked black pepper, or whatever you like.
(Image credit: Tim and Angela Chin)
When they get home, my kids drop their school bags, wash their hands, and join me in the kitchen. After a few years of practice, we've gotten to the point where I can wave in the direction of the fridge and say the dough is ready; you know what to do.
I'll put on music and preheat the oven while they gather their tools: aprons, rolling pins, cookie cutters, flour for dusting the table, and a stack of baking sheets. Then I get busy prepping a soup for dinner while they work at the table and we bliss out for half an hour or so together in the kitchen. I think that baking is as therapeutic for them as it is for me, and that time together is invaluable.
In this recipe, the dough is buttery and uses a soft wheat flour. It is quite forgiving and can take the manhandling that is the result of kids-plus-dough. We usually make some sort of cheesy variety, although I occasionally like a simple wheat thin-type cracker with plenty of snap to it and coarse sea salt sprinkled on the top.
(Image credit: Tim and Angela Chin)
Aside from being absolutely delicious, the bonus of homemade crackers is that they freeze very well. You can freeze the disc of dough, well wrapped in plastic, for about four months. Alternatively, store the baked crackers in an airtight tin and freeze them for up to four months (although they never last that long!). Make a stash of crackers for the freezer, alongside a few quarts of homemade soup, and you are set for a fast weeknight dinner this winter.