Yankee Candles and Girl Scouts Join Forces, Since You Of Course Want Your Home to Smell Like Samoas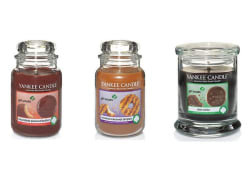 (Image credit: Yankee Candle)
What will they think of next?
In a licensing deal that will surprise no one, Yankee Candle has teamed up with the Girl Scouts to offer four candles that are supposed to smell just like your favorite cookies taste.
But it gets even better.
Not only can you get candles that smell like Tagalongs, Samoas, Thin Mints, and Trefoils, you can also get car air fresheners that smell like the iconic cookies.
What's your vote on Girl Scout cookie candles?