The Kitchn's Guide to the Most Essential Baking Pans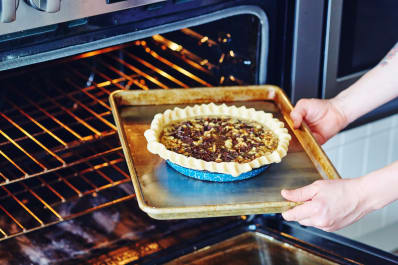 Even if you're not a frequent baker, there are a few baking pans that are still must-haves for every kitchen. And if you ARE a baker, well then, you're going to need a few additional ones. With the holidays coming up (read: prime baking season), we decided it was pie time (get it? instead of high time?!) to run a full guide of the essential baking pans.
Here's a list of what you'll need — and some specific shopping suggestions — based on what you cook or bake.
As in all of our guides, we've offered a few product recommendations in each category based on personal preferences, experience, and editor and reader reviews. Most of these tools can be bought on Amazon, but a terrific and cost-effective resource for basic kitchen tools is a restaurant supply store. Just buy the best quality you can afford!
Related: Metal, Glass, Ceramic, or Silicone Pans: When To Use Each
1. A 9x13-Inch Glass, Ceramic, or Metal Baking Pan
The standard pan size, this versatile pan typically holds about three quarts. You can also convert almost any basic cake or cupcake recipe into a 9x13 pan with no major adjustments. Glass is more presentable, particularly for things like casseroles and sheet cakes, but metal is more versatile. We recommend buying this pan with a lid. It'll make things so much easier for storage and/or transporting your dish across town.
3 of Our Favorites
2. An 8x8-Inch or 9x9-Inch Square Baking Pan
An 8x8-inch pan is just slightly bigger than a halved 9x13-inch pan. It's what you'll need for brownies and bars. Again, a lid would be great.
3. Two Commercial-Quality Half Sheet Pans
We recommend commercial quality half sheet pans; they're more expensive, but worth it. Baking sheets are not a place to cut corners: look for heavy ones, and avoid nonstick and dark coated pans. (Why? Nonstick isn't that helpful and darker pans brown baked goods too fast.)
4. A 9- or 10-Inch Round Cake Pan
This is a standard size for traditional layer cakes, but it's helpful for other dishes, too, like biscuits, sweet rolls, even meatballs.
5. A Muffin Pan OR Paper Souffle Cups
If you like baking muffins and cupcakes often, then a muffin pan is essential. If it's an occasional treat for you, then you can probably get away with paper soufflé cups. Cheap and recyclable, just fill them with batter, line them up on a regular cookie sheet, and bake!
6. A 9- or 10-Inch Pie Pan
A basic pie pan isn't just for pies: it's great for roasting a chicken or making a quiche, too! Look for extra deep pie dishes to accommodate lots of filling. Glass or ceramic is best here.
Related: Baker's Tip: Choosing the Right Pie Dish
7. A 9x5-Inch Loaf Pan
You can cook everything from pound cakes to banana bread, meatloaf, and yeast breads in a standard loaf pan. Heavy and plain is best.
What other baking pans do you have and use? Add them to the comments below!
Kitchn supports our readers with carefully chosen product recommendations to improve life at home. You support us through our independently chosen links, many of which earn us a commission.