The Kitchn's Guide to Carbon Steel Pans & Knives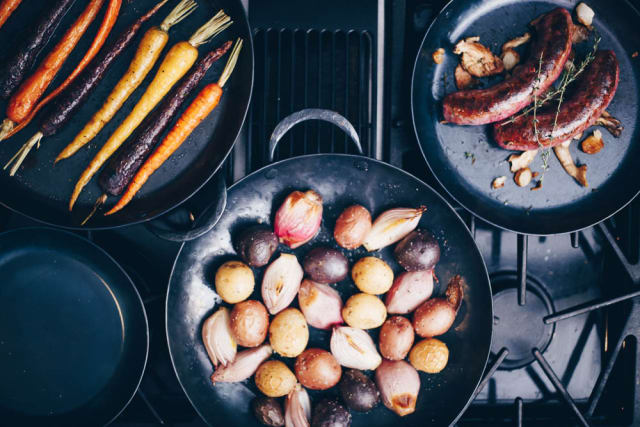 (Image credit: Keith Freeman / Blanc Creatives)
Carbon steel cookware has certainly taken off since I first raved about my de Buyer carbon steel pan four years ago, and it's a good thing. I can honestly say that my pan is still going strong today and it is by far the one I reach for the most.
Curious about carbon steel, how it differs from cast iron, and how hard it is to maintain? And what about carbon steel knives? Are they worth the small amount of extra maintenance? We did some investigating and rounded up everything you need to know about carbon steel in the kitchen.
Everything You Need to Know About Carbon Steel Pans
Carbon steel is usually used for frying pans and sauté pans, as well as woks, paella pans, and what some people call cassoulet pans. In other words, any kind of pan that requires a flat surface and might occasionally call for an application of very high heat. Griddles and grill pans are also good candidates for carbon steel.
If it's not clear by now, we're super-big fans of this sturdy, efficient, and beautiful kitchen tool!
Here is everything we could gather on what to think about when considering, buying, seasoning, cooking with, and cleaning a carbon steel pan.
First, let's start with the basics. What exactly is carbon steel and how does it differ from that other cook's favorite, cast iron?
At this point you still might be saying, Eh, I dunno; cast iron worked for my grandmother and it's working for me. Why should I switch?
(Image credit: Keith Freeman / Blanc Creatives)
Okay, so you're convinced to give carbon steel a try. Your next question is where can I buy one?
You've got your brand-new carbon steel pan and you're ready to go. Your first step is your most important step: seasoning. Don't worry, it doesn't take long, although you may want to open a window.
Yay. You've got your pan, you've seasoned it, and now it's time to take it for a spin. What are some of the best things to cook in a carbon steel pan?
Success! You've just made the best steak/scrambled eggs/stir-fry of your life and now it's time to clean your new favorite pan. Is it hard? Absolutely not. Just follow these steps and your carbon steel pan will be ready for your next cooking adventure.
Okay, maybe things got a little intense there while searing that steak and you're worried that you went and ruined the best thing you've ever brought into your kitchen. Calm down. Everything is going to be fine. Carbon steel is actually quite resilient and easy to take care of.
Everything You Need to Know About Carbon Steel Knives
Carbon steel is also a popular material for knives, although it's important to consider the trade-offs. What carbon steel has going for it is that it can be honed to a razor-like sharpness and it will keep that edge for quite a while. What some folks don't care for is the fact that it needs to be washed and wiped completely dry with each use or it will easily rust.
So the choice is yours: shiny but maybe a little dull stainless steel, or patina-ed but razor-sharp carbon steel? Let's dive a little deeper.
This closer look and comparison between carbon steel knives vs. stainless steel knives will give you all the information you'll need to decide if carbon steel is right for you. Or maybe you want to give it a try with just one knife and see how it goes?
What exactly goes into the maintenance of a carbon steel knife? It's really not as fussy at it seems. While you have to be careful about rust, it's also true that rust is easily removed and your knife can be back in shipshape in no time.
Do carbon steel knives need professional sharpening? While carbon steel knives are famous for holding their edge for a long time with just the occasional honing, you may want to occasionally take them to a pro for a touchup. Here's what to look for in a knife sharpener.
Finally, a here are a few testimonials from our Executive Editor, Faith, and yours truly as well as professional chefs who use carbon steel knives on a regular basis and love them like a child.