The Immersion Blender: My Secret to Easy Homemade Baby Food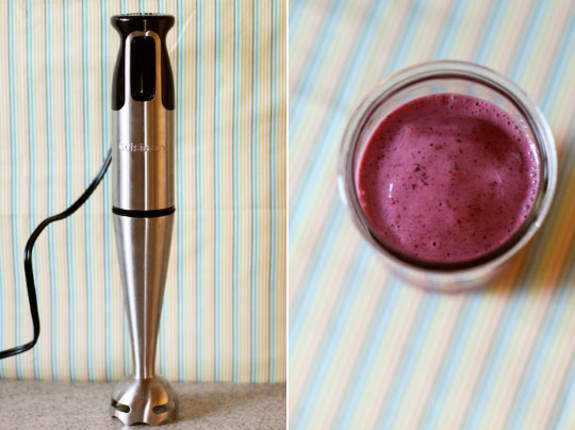 It always seemed a no-brainer to me that I would make my daughter's baby food. It couldn't be that difficult, right? But throw in a clunky food processor requiring approximately one million parts, and then baby food that was not smooth enough to please my finicky first-time eater, and I was quickly feeling defeated. Then I discovered the game-changer...

...an under-used immersion blender in the back of our kitchen appliance cabinet.
While pregnant, I had actually turned down several offers from well-meaning friends and family members who desperately wanted me to own a Baby Bullet. I heeded the reviews that touted the appliance as cute but unnecessary. It appeared to serve the same purpose as our large and fancy food processor, which I assumed was the way to go. However, pulling out and then putting away a monstrosity of an appliance, a dishwasher full of dirty parts, and, worst of all, chunky food, proved me very wrong. For a moment I actually regretted my denial of needing the Bullet. There had to be a better way!
Then, while pulling out the food processor one more time, I rediscovered and tried the immersion blender on a whim. It was glorious! Now I can't imagine making baby food without it.
I use a Cuisinart model, which is simple and small. I don't have to bend at the knees to lug it out of the cabinet, it doesn't splatter or make a mess, it results in perfectly smooth purees, and there is only one piece that goes into the dishwasher after. And in an unexpected benefit, the parts that touch the food are all metal, and it doesn't require that the food be in a particular container, so the food doesn't come into contact with plastic as it does in a food processor.
Of course not everyone's baby food-making experiences are equal, and I'd love to hear your feedback in the comments. What are your secrets to easy homemade baby food?
Related: The #1 Multi-Tasking Gadget You Should Have In Your Small Kitchen
(Image: Anjali Prasertong)
→
Kitchn supports our readers with carefully chosen product recommendations to improve life at home. You support us through our independently chosen links, many of which earn us a commission.