The Great British Bake Off Is Secretly a Show About Time Management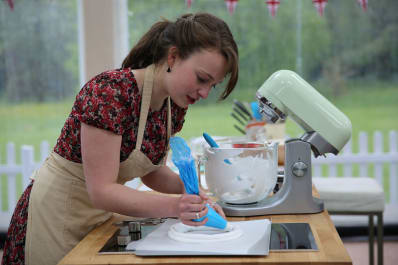 (Image credit: Courtesy of Love Productions)
I'm a sucker for time management systems. I've bullet journaled, read Getting Things Done, embraced everything from Trello to Omnifocus to elaborate webs of post-it notes. Without a ton of structure, my time gets slippery and hazy. Unless I focus, it seems to just disappear.
I'm also a huge Great British Bake Off fan, and every time I watch GBBO I'm struck by how much of the show is clandestinely about time management and work strategies. For a while my mantra was "Be a Kimberly" after watching season four, where semi-finalist Kimberley Wilson appeared simultaneously highly focused and deeply calm. She broke down tasks, digested criticism, and always offered her best finished product instead of something destroyed by skipped steps or poor time allotment.
You see the hazards of poor time management with the contestants who aren't on their Kimberly-level game. If you don't have a solid strategy for managing your time, it's almost impossible to win a baking competition. Everything is measurement and precision, ordered tasks and structured time. Watching GBBO during a particularly bleak month for my to-do list, I started tuning into exactly what they were doing to see if I could add it to my work.
---
If you don't have a solid strategy for managing your time, it's almost impossible to win a baking competition.
---
None of these suggestions are rocket science. But listen, cakes aren't rocket science either and most of us have screwed up a way less ambitious cake than what we see on GBBO. Baking is typically a set of simple directions, yet how many people do you know who insist that they can't bake? Sometimes the simple things are surprisingly difficult.
(Image credit: Courtesy of Love Productions)
4 Time Management Lessons from GBBO
When I treat my workload like I'm a GBBO contestant and channel my inner Kimberley, I finish my work on time and know that I've done a good job. Here's how you can too.
1. Always give yourself more time than you think you need.
Contestants often assume something will go well on the first try and organize their time as if that's a given. But so often, the chocolate doesn't temper, the oven doesn't heat on time, the caramel doesn't come together and now everything is a scramble.
My work isn't full of glossy chocolate or finicky caramel, but it is full of unexpected emails, events, deadlines, all of the timesucks that make my assumptions really faulty. Like if I give myself two hours to write an article, I'm banking on the WiFi working, the article going smoothly, and not suddenly needing more research or edits than I expected. Sometimes this happens, but often it doesn't. When I give myself more time than I think I need, I'm able to keep my cool even when the heat is on.
Even if it's just a few minutes, embrace the buffer. Allot slightly more time for a task than you think you need. If it gets done sooner, then you get the magical gift of a few extra minutes. If you need those minutes, you can stay calm and not have to worry that the flow of your work will fall apart.
2. Structure your time into chunks.
On GBBO, Sue and Mel are like walking timers, constantly keeping the contestants focused by showing them when they're at the halfway point or when there are just a few minutes left.
Treat the timer on your phone like your own personal Sue or Mel. By giving yourself defined blocks of time for work, you can keep yourself on track and stay tuned in to exactly how much time is available to you. When I'm on my game, I'm using the Pomodoro technique, which is named after a kitchen timer. I break my time into 45-minute chunks, with 10 minutes in between, and let my timer keep me on task. The actual Pomodoro method is 25 minutes, but for me that feels too short. Just like every baker approaches their recipes from a different angle, approach your time blocking in a way that works for you and your projects.
How do you find out the lengths of time that work for you and your particular work? Practice. The contestants who come into each challenge having practiced the recipe ahead of time are calmer and better able to assess how much time a task will take, and to line up those tasks accordingly.
3. Skip the shortcuts with mise en place.
When you thoughtlessly cut corners in a recipe, you're guaranteed to run into trouble. Intentional hacks are cool, but doing a sloppy job is guaranteed to bring you sloppy results.
Cakes need to cool before they're frosted. Pans need to be greased before they're filled. Recipes need to be read, not skimmed. In fact, Mary Berry repeatedly encourages contestants to "read the recipe twice," especially during the technical challenge.
So, what does any of this have to do with your work? It's so tempting to try to shave preparation out of your process. But starting strong, like taking the time to plot out a project or simply setting up the tools you need, will keep you calmer and is likely to bring better results. Making decisions on the fly about what doesn't need to be done without really tuning into the process can bring you undercooked, lopsided cakes and undercooked, lopsided results.
Instead of constantly jonesing for shortcuts, employ mise en place to make the process flow. Mise en place is the process of setting up your tools and laying out your steps when you're making a recipe. For example, if you're getting a hot cake pan out of the oven, mise en place sets you up to have the cooling rack already out and ready to go. Mise en place gives a structure to all of those floating prep tasks that are so tempting to skip, in the kitchen and at work.
In my pile of time management books and articles, there's a book based on mise en place that helps you manage your time called Work Clean: The Life-Changing Power of Mise-en-Place to Organize Your Life, Work, and Mind. I might make actually reading that the next step in my baking-as-time-management journey, preferably while drinking a strong cup of tea and snacking on a Jaffa cake.
4. Set realistic goals.
So we all talk about the hazards of perfectionism, but GBBO gives us visual learners a lot of examples of how perfectionism will destroy the most ambitious baker. On GBBO, people who are way overambitious tend to fail, while people who do a simple thing well and are creative within boundaries do better.
Be realistic when it comes to organizing your work or managing your time. Don't give yourself a million tasks that you aren't totally sure you can finish in the time allotted. Pick the mirror glaze or the chocolate collar, and make the best glimmering glaze and sculptural swoop of chocolate ever, instead of trying and failing to do both.