This French Liqueur Makes Every Cocktail Better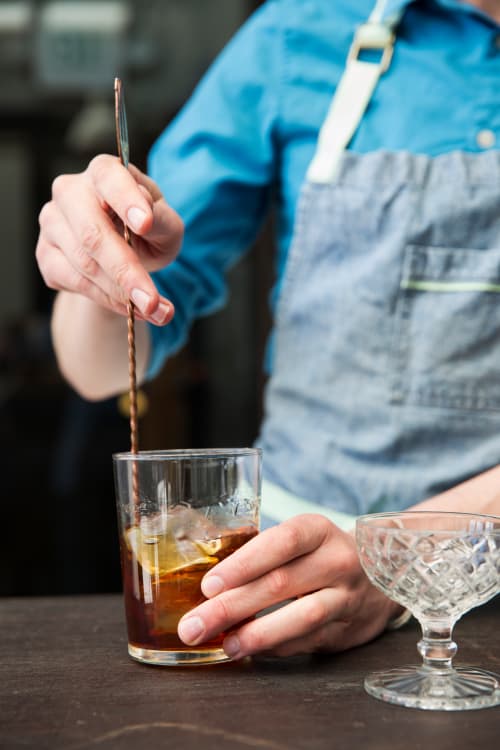 (Image credit: Charity Burggraaf)
Dealer's choice is my favorite game to play at a bar. You may just find a new favorite cocktail, and at worst you'll end up chatting with a bartender. You may even learn something.
So one night, while visiting Cleveland (which really rocks!), I stationed myself at the bar at Society Lounge, a swanky joint in the happening East Fourth Street part of downtown, and settled in for conversation. Bourbon is always the topic of choice (me being from Louisville, and all) and as much as I try to get outside my whiskey world when I travel, it is my true spirit love so I remain on the hunt for new ways to enjoy it. And the bartender, Ben, was game.
I rattled off a list of things I like — bourbon and bubbly chief among them. "Do you like St. Germain?" Ben asked. I love St. Germain. He grabbed a gorgeous, peacock blue and gold, art nouveau-style bottle: Pavan. "You have to try this," he said, pouring a sip. This was everything I love about elderflower liqueur, but more delicate, more complex, less candy-sweet, and with a lovely note of orange blossom. And it's French. I was smitten.
Buy: Pavan, $30 for 750 milliliters at The Liquor Barn
Ben got to work, and a few pours and stirs later, presented me with his creation. Dubbed the Louisville Slugger (how sweet, in honor of my hometown!) the drink was simple but stunning: a slug of bourbon, a little simple syrup, lemon juice, a kiss of Pavan, and a splash of sparkling rosé with orange peel to garnish. One sip and I knew I'd found my new go-to cocktail.
Sure enough, these Sluggers are my new house cocktail (when I can find the cans of sparkling rosé in stock at Trader Joe's that is, or have enough people over to make opening a bottle make sense). But our new friend Pavan can do so much more!
I got in touch with the bar owner, Joseph Fredrickson, who I'd also chatted with the night of this fabulous discovery. The general idea I took away from this guy who seriously knows his cocktails? Pavan is basically the perfect liqueur for cocktails.
"You're looking at more of a fortified fruit juice than just a liqueur that's been sweetened and flavored and watered down," he explains. "It's cool that they age it for a year or two — most liqueurs skip that." This fortified muscat grape juice keeps a natural acidity, and for Joseph, that makes it ideal for mixing.
"When you talk cocktails, the balance between acidity and sweet is a main topic of conversation," he says. Pavan is so naturally balanced, "you don't get palate fatigue from too much sweetness … I can add it to almost anything."
Although it was pretty perfect in my bourbon cocktail, he also recommends it with gin drinks — the floral notes being just right for one another. Anything in the sour family, he says, would be good too — a Tom Collins, maybe, or a pisco sour. A French 75 would be great. Or you can keep it super simple and just mix Pavan with Champagne over ice, maybe with a little lemon or orange peel. (Bonus: There's no need to break out the spendy bubbles for this one, he says.) You can even just mix it with soda water for an oh-so-enjoyable adult beverage.
The point? It really does perk up any cocktail. Plus, did I mention that it's French?
Related: Love St. Germain? 5 Floral Liqueurs to Try Next.
Have you had Pavan? Do you love it as much as I do?
Kitchn supports our readers with carefully chosen product recommendations to improve life at home. You support us through our independently chosen links, many of which earn us a commission.