The Etiquette of the Open Bar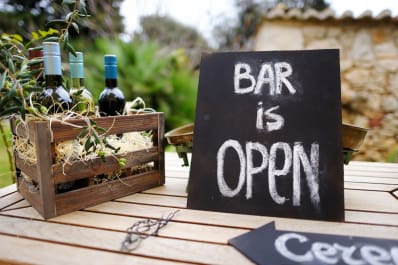 (Image credit: MNStudio/Shutterstock)
An open bar at a wedding is basically a premature gift to thank you for being a good guest. It allows you to get all the drinks you want, when you want, without having to search for an ATM. (The availability of booze adds just the right amount of social lubricant to get strangers to become friends and nudge even the shyest guests out on the dance floor, too.)
Don't make your hosts rethink their stance on serving (free!) alcohol by taking advantage of their generosity. Here's how to properly navigate an open bar.
1. Don't complain about lack of choices.
Okay, so they don't have your brand of top-shelf vodka. It'll be fine — you can drink non-premium alcohol for one night. Or, gasp, there's no vodka at all and your options are limited to just beer and wine? The bride and groom probably needed to stick to a budget. Cut them a break — weddings are crazy expensive! And, who knows, their decision to limit the bar selection might have been the thing that allowed you to be there.
2. Don't get too crazy with all the free drinks.
No one wants to be that wedding guest. Weddings are fun and all — as are open bars! — but act like you've been there! This probably isn't your first time drinking and you know your limits. Don't go too crazy just because it's free!
3. Get in line.
You see all of those people standing at the bar? Yeah they're waiting. Just like you should be. Get in line, yo. No one likes the guy (or girl) who skips everyone and elbows up to the bar. Really, how long could the line take? Five minutes? Just wait. This way, the rest of the guests will still like you at the end of the night.
4. Be polite.
The bartender is spending her Friday or Saturday night on her feet serving you, your friends, and family … most likely without having eaten. Yes, they're getting paid. But you should still say please and thank you. Manners are always appreciated!
5. Tip your bartender.
Not all couples allow bartenders to set out a tip jar (instead, they handle the tipping on their end), but if you see one, put some money in it! You're drinking for free, so slipping them a 10 or 20 won't break the bank. Plus, it should guarantee a generous pour and extra-good service for the rest of the night.