The Etiquette of Eating Lunch at Work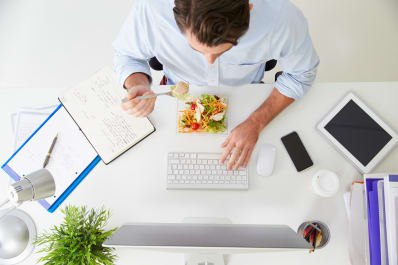 (Image credit: Monkey Business Images/Shutterstock)
Let us begin with a cautionary tale from Ester Bloom, aka Aunt Acid, internet-age advice columnist at The Daily Dot.
At my last office job, there was a woman who vocally disapproved of other people's lunch choices. Let's call her Betsy. The office was a small non-profit. None of us made much money, so lots of staff members brought food and ate either at their desks or together in the kitchen. Our food choices were thus public, and subject to Betsy's scorn. "Oh, you're drinking Diet Coke while pregnant? Don't you know that's bad for the baby?" And "Oh, you're eating tuna, again? Don't you know how that smells?"
If there is guiding principle through the minefield that is office lunch etiquette, says Bloom, it is this: "Do not be a Betsy." And so, in the interest of ensuring our collective un-Betsy status, here are seven crucial tenets for surviving the tyranny of the office lunch with grace.
1. Be civil.
In an ideal world, you would not be eating at your desk, but this is not a Scandinavian paradise, and in many offices, desk-lunch is the norm. Somehow, we all survive. Still, you are obligated to at least try for some semblance of civility.
"Try not to make a practice of staring at your desktop, shoveling food into your gaping maw," says Kirsten Schofield, who writes on social mores as "Fancy" at Salon. That means making reasonable chewing noises, not eating things you dropped on the floor (sorry), and cleaning up any crumbs or drips thoroughly when you're done.
2. Don't be afraid of smelly food.
A common and reasonable-seeming piece of lunch etiquette advice is to avoid eating "things that smell," but I am going to go out on a limb here and say you have my backing to eat whatever you want. "After all, everything smells disgusting to someone," Schofield agrees.
You hate the smell of curry, I hate the smell of tuna, and yet we must coexist together in functional harmony. "I think the onus is on people not to wrinkle their noses at the smell of other people's 'weird' — usually just unfamiliar or less mainstream — food," says Bloom.
That said, if you are going to bring something especially odiferous, it is courteous to dispose of any wrappers or leftovers in a far-away trash can. If it is truly pungent, it might also be nice if you ate it in the kitchen.
3. Don't hog the microwave (or anything else, probably).
Although you are fully entitled to use the office microwave to heat up whatever you want, Schofield points out that if the thing you want to heat up is going to take a full 10 minutes, consider lunching off-peak. "Every office has an approximate hour when people eat, so it's uncool of you to monopolize the lone heating device for most of it."
4. Keep your nutritional insights to yourself.
Do not comment on what other people are eating or how they are eating it, even if you mean it in a very nice way. This is not the time to say that you personally do not care for Thai food, or you admire their penchant for salads ("so healthy!"), or you have noticed that they sure do eat a lot of granola bars these days. "It's irrelevant, it's mean, and you can rapidly get into class/religion/ethnicity/gender/medical history stuff and hit a professional third rail," says Schofield.
Remember Betsy? This is a Betsy thing. Don't be Betsy.
"If you're going to comment at all, the only acceptable thing to say is 'That smells good!' or 'That looks good!' That's it," adds Schofield, in no uncertain terms.
5. Treat the kitchen like it is public space, because it is public space.
Don't make a mess. If you make a mess, clean it up. Wash your own dishes. QED.
6. Treat the refrigerator as communal territory.
Like the kitchen, the rules of the office fridge are simple. Put your name on your food (this is just self-defense), and don't eat other people's food. Make sure whatever you're storing in there isn't dripping, because that is gross. Seal your containers.
Also, Schofield suggests, do a sweep periodically to make you don't have any forgotten food festering in there. Leaving something overnight is fine — we are but human. "But leaving your coworkers to dispose of a six-month-old container of beef stroganoff? Come on," she says.
7. Be inclusive.
"I heartily recommend going out for lunch with your coworkers and getting to know them offsite if you're even a little bit moved to," says Bloom. While there is nothing wrong with having a regular one-on-one lunch friend, it is generally advisable to invite others along at least some of the time. This is likely to work in your favor professionally. Also, it makes you a nice and decent person, which I like think will also pay off later, but more in a cosmic sort of way.